San Mateo, CA Movers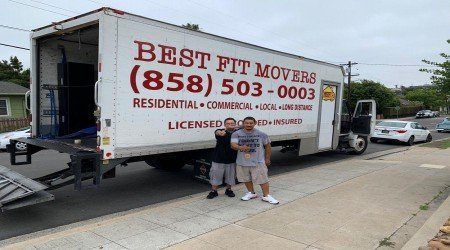 Moving on in the direction life takes you in is as challenging as it is exciting, especially when this 'moving on' refers to shifting to a new locale, or a new city altogether. After all, this move dictates you to leave behind a life full of beautiful memories and exceptional people. We, at Best Fit Movers, understand the emotional challenges that come with moving, and therefore ensure that at least when it comes to shifting your belongings; you enjoy a hassle-free experience!
One of the leading reasons why people across San Mateo and the rest of California place their trust in us is because we offer the indispensable services of a Personal Moving Consultant. Not only will our personal consultant assist you in understanding the process with ease, but will also help you find the best deal depending on your specific moving needs and your budget. Besides, our top-notch packaging, moving and storage solutions will ensure an incredibly seamless moving experience for you and your family.
Best Fit Movers
Make your moving experience in San Mateo feel like a breeze, only with our expedient moving services including but not limited to –
Residential Moving
A nuclear family, or an extended one, Best Fit Movers packaging services has got all your belongings covered!
Local Moving
Moving 1 mile away or 20, with Best Fit Movers, your local moving needs are always sorted out.
Long Distance Moving
The thought of long distance moving giving you nightmares! Call Best Fit Movers and put all your worries at bay.
Commercial Moving
It isn't always that you need to move your offices, but when you do, Best Fit Movers is your best bet!
Storage
Wish your stuff could be stowed away with complete safety? Well, thank your stars because we have tons of storage space, in San Mateo and across California!
We are your one-stop solution when it comes to exemplary packaging services for all your generic and valuable goods.
At Best Fit Movers, our range of services include:
Free In-Home Estimate
Blankets For Additional Protection of Your Furniture
Disassembly And Reassembly of Furniture, as required
Dollies, hand-trucks, and straps for securing your belongings
Now that you are aware of the flawless way in which we help you move, don't spend another minute of your precious time in any dilemma. Fill our free quote form right away, and kick-start your journey in the most promising way possible!