If you're moving to Vista, get ready for a combination of sensations that you won't find elsewhere. The feel of the California sun on your skin, the smell of Pacific Ocean saltwater in the air, and the sight of sprawling skylines are all commonplace in beautiful Vista. Now there's just the task of getting there. While you may think it's a complex process with a lot involved, you can simplify it with the help of a Vista moving specialist.
Our San Diego movers know the local area and the best practices for a smooth relocation. When you're heading to Vista and want the very best experience getting there, give us a call.
Why is Best Fit the Right Fit for a Vista Move?
Relocating is a process that takes a lot of energy. Not only are you tasked with physically transporting all your belongings from one location to another, but you'll have plenty on your mind as well.
Trying to keep track of everything, store it until it's time to move, and keep it protected during the trip to Vista is a stressful set of tasks to complete. But with the right moving company to help you, you'll be able to keep your mind on the exciting life that awaits you in this new city.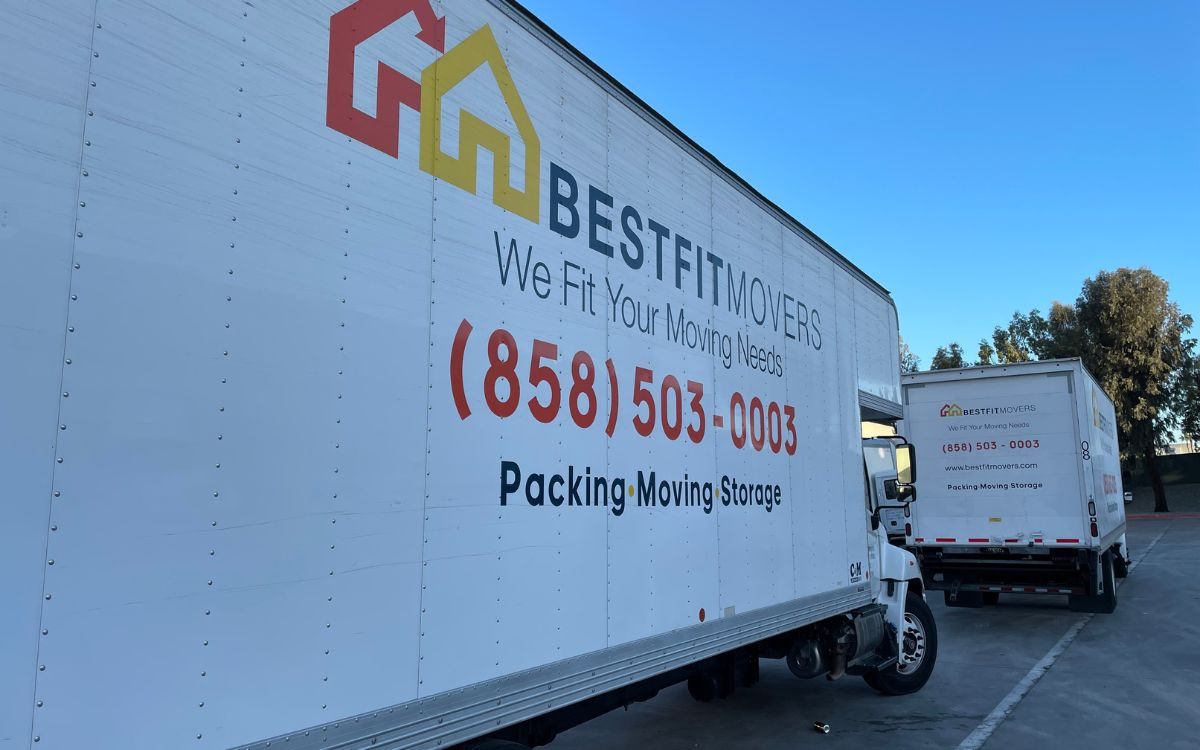 A Vista Moving Company You Can Trust
Sure, hiring experts can make your move easier. But how do you know you can trust a company with your belongings and with managing this important chapter in your life? Don't take our word for how reliable we are. We have evidence to prove it, including:
Licensing and insurance to give you peace of mind

Positive customer feedback

that proves we're consistent
Transparent pricing with no-hidden fees
To add to that last point, we also offer free moving estimates so you'll know exactly what our services will cost you. It's all part of our commitment to making your relocation a smooth and enjoyable experience.
We're Prepared for Whatever the Job Calls For
In our experience handling all forms of moves from residential to apartment to business relocations, we've built a diverse skillset. This enables us to assist you with nearly any part of the moving process.
Is your Vista move being delayed, but you need to get your belongings out of your old house? We offer storage services so you have a safe place to house your items and an easy location where we can load them from.
Speaking of loading cargo, we do it with all the proper supplies. With padding to secure your fragile items, carts to easily transport bulky belongings, and floor covers to protect your locations while we're moving property in and out, you'll know that all the proceedings will flow smoothly.
Why Moving to Vista Could Change the Landscape of Your Life
Did you know that the term "Vista" is synonymous with landscape, view, and outlook?
That's a summary reason why so many people have come to this beautiful San Diego County destination just mere miles from the Pacific shore.
Over 100,000 people call it home – a number that's climbed in recent years, especially for younger adults. If you want a new view on life, with plenty of ways to stay fit, successful, and content, this could be the place for you.
Scenery Perfect for Recreation and Relaxation
The stunning scenery of Vista is very appealing whether you want to relax your mind or exercise your body. The many beaches nearby are ideal for sitting on the sand and watching the waves roll in, or stretching before jogging down the shore.
But it isn't all about the beaches in this area. There are a variety of parks you can check out to enjoy peaceful nature designs or travel around the tracks on foot or on your bike.
The parks and beaches are also fine places to walk the dog, throw around a frisbee, or even try out some yoga exercises while being one with nature. Since Vista offers such a gorgeous view, it makes spending time outdoors all the more enjoyable.
Support for Working Professionals and Business Owners
Many people come to California in search of career development and professional growth. Vista is inviting to entrepreneurs and innovators.
The city's website provides helpful resources for topics like:
Starting a business
Special events for professionals
Organic waste reduction
Licensing and taxes
Permits and forms
If you're moving to Vista in hopes of joining up with a great company rather than starting one, you're in luck. Many industries exceed performance over state averages here, including construction, manufacturing, and administrative support.
Entertainment for the Whole Family
Whether you're moving to Vista solo or you're making the move with loved ones, there are many attractions for entertainment and educational purposes.
Why not catch a relaxing show at the Moonlight Amphitheatre or Broadway Theatre? How about taking a glimpse into the past at the Antique Gas & Stream Engine Museum, or the Rancho Guajome Adobe?
If you've got little ones, you can take them to splash around at the Wave Waterpark, or fly around the Get Air Vista indoor recreation center. Both are fun places to burn off energy, and who knows, the adults may just have a fun time there as well.
Fill Your Plate, Your Glass, and Your Stomach
One of the best parts of moving to Vista is the wide variety of cuisine.
Flavor styles from all over the world converge in this area. You can enjoy authentic tastes inspired by the culinary legacies of Mexico, Italy, Japan, China, India, and other places with one-of-a-kind taste combinations.
Don't forget to wash it down at some of the famous breweries and bars in the area, such as Pure Project Vista, Mother Earth Brewing Company, and many more. You may even find a small upstart spot in the city that soon becomes huge, thanks in part to your continued business.
We're the Vista Moving Specialist You Need
Sunny shores, big businesses, and mouth-watering menus await you in Vista – all this appeal likely makes you eager to get your big move on the road.
We're the top Vista moving specialist for many reasons. Our A+ rating with the BBB proves that we take our commitment to quality very seriously. Our passion for the San Diego County area is just as strong – but more than anything, we're dedicated to complete customer satisfaction.
Whether you're moving a few miles or a few hours away, contact us today for help – we book up quick, so reach out ASAP and we can begin prioritizing your move.