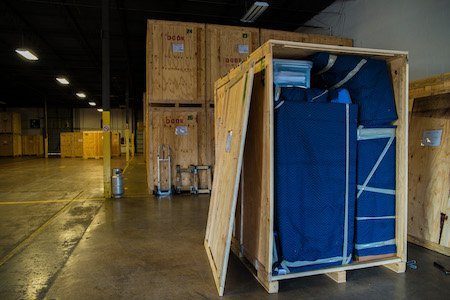 The San Diego storage services provided by Best Fit Movers are one of the offerings that make us the undisputed choice when moving in Southern California. For our customers in San Diego area we have commercial and residential storage to accommodate anyone's needs.
We are a full-service moving and  storage provider conveniently located in Southern California. Our San Diego moving and storage services are designed to meet the specialized needs of our customers, whether you are storing a few things or many of your belongings. We also offer temporary storage-in-transit or permanent storage for those needs which extend past 90 days. Our San Diego storage services are flexible to ensure that we can best serve our valued customers.
Our San Diego Storage in California: How We Store
When we receive your items for storage, your belongings are containerized in large wooden vaults. Compared to self-storage or portable storage options on a cubic foot basis, our 336 cu ft options can save you between 20 and 50 percent. Each vault is 7′ long x 6′ wide x 8′ tall. You will always have access to your goods while in storage. You can take advantage of our low monthly rates, and we even offer discounts if you choose to store with us.
San Diego Affordable Storage Vaults
Our San Diego storage services are unmatched in the industry. We strive to make our San Diego storage services affordable, convenient and flexible for our customers. As always, our customers can be sure that their belongings will be secure and cared for while stored in our facility. When you choose Best Fit Movers for storage, you know you are receiving the best San Diego storage services available.
Moving and Storage services, San Diego
Secure, well-staffed and fully alarm monitored storage in our well-ventilated, well-maintained facility
Full inventory of your items, including the condition they are in before loading
Easy at-home registration so you never have to leave your home to set up your storage contract
Convenient access to your goods by appointment. If you just need an item or two, we can take you to your storage vault and assist you with unloading your item inside the warehouse. (a small fee applies)
Trouble-free delivery of your stored items (either in part or in full) or pick up of additional items. Call us any time to schedule a pick-up or delivery, and our professional movers will take care of it for you.
widing storage insurance, so you never have to worry about your items when they are in transit or in storage. (See www.MovingInsurance.com.)