When you think of living in California, you might think about the sprawling monolith of Los Angeles, but there's so much more to California. Located a couple of hours south of Los Angeles is the sun-drenched city of San Diego, easily one of the most laid-back and beautiful locations in the state. Just one visit will leave you ready to relocate. Are you thinking about moving to San Diego from out of state? Not sure about what it has to offer you and your family? Read on to find out why San Diego is such a great place to live!
Where exactly is San Diego?
San Diego is California's southernmost major metropolitan area and is the state's second-largest city. It is situated on the coast and a mere 20 miles north of Mexico and 120 miles south of Los Angeles. California's diverse landscape allows San Diego residents to spend their mornings soaking up the sun on the beach and then packing up their cars for a short drive to the slopes in Big Bear in the afternoon. Prefer mid-century modern architecture and relaxing by the pool in the desert heat?
Head east to Palm Springs for a weekend getaway! Southern Californian's Mediterranean climate is prized for being temperate year-round. Expect weather above 60 degrees nearly every day of the year, with a few cooler nights here and there. Summers are hot and dry and winters are cool and somewhat drizzly. June is famous for its cool and overcast days, referred to as "June Gloom." Expect warm summer temperatures and the infamous Santa Ana winds to last well into October before cooler fall weather sets in.
6 Best San Diego Neighborhoods
The San Diego area is home to a wide variety of cities and neighborhoods. No matter what your personal preferences are, you're sure to find a locale in San Diego that suits them!
Carlsbad
Located 35 miles north of San Diego, the city of Carlsbad is great for people looking to escape the hustle and bustle of big city life. Carlsbad is a beautiful beach community with great options for people who enjoy great food and drinks. It has a walkable village area and hosts fantastic schools. You don't even have to leave the comfort of your neighborhood for great family fun in this city. It's home to the Legoland California theme park and the Tamarack Surf Beach.
La Jolla
If you want to live in an upscale area, then La Jolla is for you! La Jolla is a beach town 14 miles north of downtown San Diego and is home to the University of California, San Diego. There are tons of upscale shops, fantastic schools, and stunning beaches in this city. It's no wonder why locals love it so much.
Mission Hills
Mission Hills is an upscale neighborhood in San Diego, but with its own unique twist. It's a historic neighborhood full of beautiful homes built in Craftsman, Prarie School, and Spanish Colonial Revival styles. Even if you aren't interested in the area, the architecture of the homes makes it worth a visit! It's located just east of the historic Old Town San Diego, so you'll never want for interesting activities. It's also super close to downtown San Diego. What's not to love about this lovely neighborhood?
Oceanside
Oceanside is one of California's major military cities. Located 38 miles north of San Diego, Oceanside is well-known for being home to the Marines, but it's also got great beaches and a vital restaurant scene. Oceanside is one of the stops on the Amtrak Pacific Surfliner line, making it easy for locals to explore the area without worrying about traffic or gas!
Hillcrest
Hillcrest is easily one of San Diego's most unique neighborhoods. It's close to Balboa Park and is home to San Diego's LGBTQIA community, making it one of the most laid-back neighborhoods in the area. Hillcrest also features fantastic ethnic cuisines and great bars. The health-conscious can check out the Hillcrest farmers market on Sundays to shop for fresh, local produce and handmade crafts.
Gaslamp Quarter
The Gaslamp Quarter is a historic district in San Diego and one of the main areas tourists hit when they come to town. It's a great spot for people who enjoy a lively bar and nightclub scene. It's also home to a number of fantastic restaurants, so life in the Gaslamp Quarter is never boring!
Schools and Education System
San Diego and the surrounding areas are home to world-class schools and universities. San Diego alone has 113 elementary schools, 23 junior high schools, and 28 high schools. There are also 45 charter schools available to serve students in the school district. When your children are ready to head off to college, or if you want to change career paths, then there are fantastic colleges and universities in San Diego. It's home to the University of California, San Diego, ranked 37th nationally by U.S. News and World Report. You'll also have access to San Diego State University and its beautiful mission-inspired campus. There are also several private universities in the area, including the University of San Diego, San Diego Christian College, Point Loma Nazarene University, and John Paul the Great Catholic University.
Beaches
Beaches are easily one of the best amenities San Diego has to offer. That said, not all San Diego beaches are the same. Check out these beaches to determine the best fit for you!
Ocean Beach
Interested in living in an area that embraces Southern California beach culture? Then be sure to check out Ocean Beach. The streets are lined with surf shops and yoga studios. There's a dog beach for people who love spending time with their pups and a ton of outdoor cafes where you can sit and soak up the sun!
Point Loma
Point Loma is a boat lover's dream! This neighborhood truly embraces boating culture and is focused on outdoor activities. Naturally, that includes a wide variety of seafood restaurants and lots of seaside hikes!
Coronado
Coronado is a resort town in San Diego that is home to the Hotel del Coronado, stunning beaches, and the Glorietta Bay. It's accessible from the city via the beautiful San Diego-Coronado Bridge. Spend the day on the beach and then relax at one of the numerous seafood and Mexican food restaurants!
Fitness
If you're a fitness buff, then San Diego has tons of amenities to help you meet your fitness goals. Love being out in nature? Greet the day with a run along the beach and watch the sunrise. Or you can spend the day exploring natural areas like Torrey Pines State Natural Reserve or hiking through the Devil's Punchbowl. Prefer getting fit indoors? Enjoy the luxe amenities at upscale gyms like Equinox and Point Loma Sports Club. There's also plenty of yoga, cycling, and pilates to go around!
Family Fun and Entertainment Spots
Apart from the wonderful beaches and easy access to weekend trips, San Diego also has a ton of famous spots that'll entertain the whole family. Here's a small sampling of what's available!
San Diego Zoo
The San Diego Zoo is easily one of the most famous zoos in the world. There's a reason for that: the San Diego Zoo is uniquely dedicated to being a great home to wild animals and to preserving their species in the wild. The San Diego Zoo is home to over 3,700 animals with more than 650 species represented. They were also among the first in their field to house animals in open-air habitats. You won't find any animals behind bars here! There's so much to see and do here that you'll find yourself returning again and again.
San Diego Zoo Safari Park
The San Diego Zoo Safari Park is located in Escondido, a short distance from the zoo itself. It sits on 1,800 acres and is home to animals from Africa, Asia, Europe, Australia, and the Americas. There are over 2,600 animals in the park with more than 300 species represented. One of its most prized features is its Africa Tram that goes through all of the African exhibits and lets you get close to giraffes, rhinos, and more! Like the San Diego Zoo, the Safari Park is a can't miss!
SeaWorld
Do you love seeing marine mammals and fish up close and personal? Then you need to check out SeaWorld San Diego! SeaWorld San Diego is the first of several SeaWorld parks across the country. Its main attraction is the Orca Encounter which is a show dedicated to killer whales. You can also pet dolphins, stingrays, and shuck oysters in search of pearls!
Balboa Park
Want to spend the day exploring all kinds of attractions? Then be sure to take a few weekends to explore everything that Balboa Park has to offer. Balboa Park is situated over 1,200 acres and is notably home to the San Diego Zoo. There are also over 16 museums in Balboa Park like the San Diego Museum of Art and the San Diego Natural History Museum. It also prized for the stunning architecture throughout the park and its beautiful landscaping.
Disneyland
Want to get out of town for a truly magical experience? Then head 90 miles north to the Magic Kingdom — Disneyland! Disneyland is the first of Walt Disney's theme parks and is located on 120 acres of land in Anaheim. The park is situated around a stunning replica of Sleeping Beauty's castle. When you've had your fill of rides and entertainment, head to Downtown Disney for great eats or to check out a show at the House of Blues.
Places to Grab a Drink
If you love beer, then you'll love living in San Diego. It has one of the greatest craft brewery scenes in the entire country. The city is loaded with over 120 craft breweries, many of whom have won awards for their brews. You can hop on one of the many guided tours and sample flights of beers as well as meet the brewers and discuss the brewing process. If beer isn't your thing, then head an hour north to Temecula, one of California's best destinations for wineries. Temecula is home to a wide variety of tasting rooms and vineyards. It is also the host of the Temecula Valley Balloon and Wine Festival which features multiple vintners, great food, concerts, and, of course, beautiful hot air balloons.
San Diego Transportation
Are you worried that you'll be too isolated from the rest of the state in San Diego? That couldn't be further from the truth. There are plenty of ways to get around both inside and outside of San Diego.
Freeways
There are several freeways that connect San Diego to the rest of the state. The main freeway is the 5, which goes north and south and connects commuters to the 8, 15, and 805 freeways. There are also numerous local highways to make getting around the city a breeze.
Amtrak
Want to get a taste of what it's like to ride the rails? Then book a ride along the coast from one of San Diego's numerous Amtrak stops on the Pacific Surfliner. The Pacific Surfliner heads north from San Diego through Los Angeles, Santa Barbara, and San Luis Obispo. This particular route is known for its stunning ocean views. It's definitely a can't miss experience and a great way to explore the state!
Hit the Airport
If you need to head out of state, then you'll be happy to know that San Diego is home to a premier international airport, the San Diego International Airport. It served over 25 million passengers in 2019 and provides nonstop international flights to Germany, Japan, and the United Kingdom, among many others.
Public Transportation
San Diego has a robust public transportation system. You can explore the city via the bus or through the trolley system. You can even take the bus or trolley to and from the San Diego International Airport to avoid paying for overnight parking while you're away! If you're contemplating a move to San Diego, whether as part of a corporate relocation or a family move, you're making a wise choice. Moving and packing is stressful on its own; moving to a new city – a big one at that – adds to the stress a bit more. However, having a local moving company on your side that not only has experience in moving and packing but one that's also fluent in the San Diego landscape, will make everything much easier on you.
San Diego is home to 1.4 million, and is located on the scenic coast of the Pacific Ocean just 120 miles south of LA. Adjacent to the Mexican border, San Diego is the eighth-largest city in the country and second largest in the state. This beautiful city is well known for its warm climate, deep-water harbor, miles of gorgeous beaches, and even its emergence as a healthcare and biotech development center.
Something for Everyone
Nicknamed "the birthplace of California," San Diego was ranked by US News as the 36th best place to live in the entire country and 51st in best places to retire based on the cost of living, quality of life and the job market. The schools are top rated in the area and the unemployment rate is lower than the national average, steadily declining in recent years. Business is booming here, and so is education.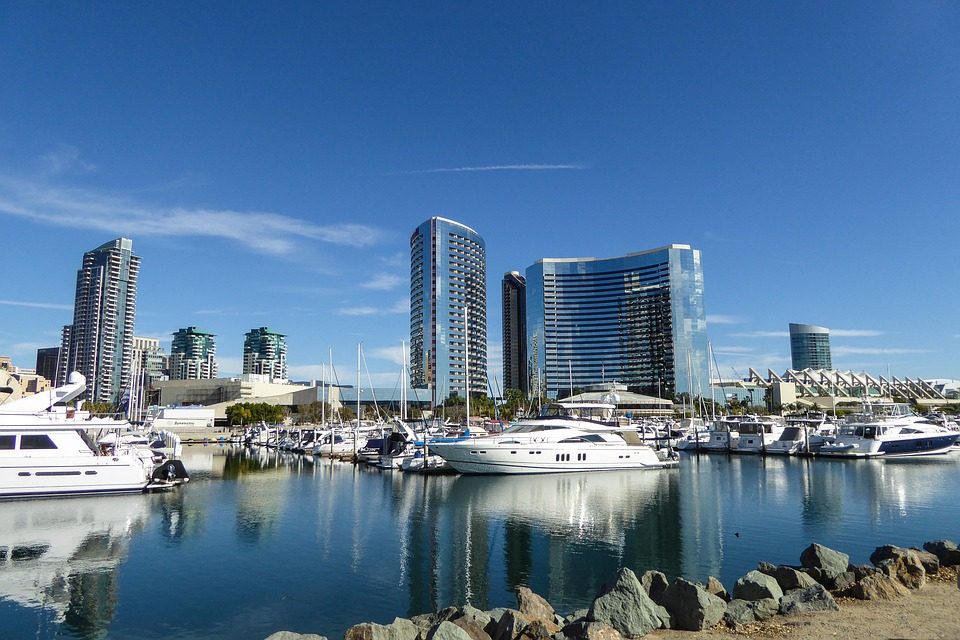 However, there's much more to this Southern California beach city than you may see at first glance. The lifestyle you lead will depend on your interests. San Diego has something for everyone.
If you're a beach bum, you'll never tire of laying on the beach, walking it for seashells, surfing or just admiring the horizon. If you're an artsy person, you're in luck, as this area features so many museums and art galleries, such as the USS Midway Museum, San Diego Air and Space Museum, San Diego Museum of Art, the Museum of Contemporary Art San Diego, Space 4 Art, and the Murals of La Jolla.
Top San Diego Attractions
Whether you crave an urban or suburban environment, or you're looking for beach living, San Diego has it all. There are so many things to do, from outdoor activities and recreation opportunities to museums and entertainment venues.
The impressive Balboa Park remains a stand-out attraction in San Diego, the site of the amazing San Diego Zoo, as well as a number of art galleries, museums, artists' studios and gardens. Its deep harbor is home to a large and active naval fleet, with the USS Midway being open to the public.
Featuring world-class dining, professional sports, entertainment options, festivals, bars and pubs, cultural attractions and more, this is not surprising of such a large metro area. But it's the patchwork of distinct neighborhoods that foster strong community ties that sets this city apart from the rest of CA.
There are festivals and farmers markets, meet-ups with friends at beaches, picnics in parks, mommy and me strolls, and rendezvous at local bars and restaurants.
The Best Things to Do
Balboa Park is home to more than 16 museums, multiple performing arts venues, scenic gardens, trails, playgrounds and theaters. You should also check out the USS Midway Museum, La Jolla Cove, La Jolla Shores Park, Sunset Cliffs Natural Park, Petco Park, and Birch Aquarium.
San Diego is home to many scenic hiking trails. Want an ocean view? Try Torrey Pines in Del Mar. If you want high, panoramic views, head to Potato Chip Rock in Poway. If you're a thrill seeker and like heights, go to San Elijo Hills. This is where you'll find a trail that goes up to Double Peak, which happens to be the highest point in San Diego County.
Planning on Moving to San Diego?
When it comes down to it, there're few cities that are as great a place to live as San Diego. You can wake up, catch some waves, and relax with friends and family at your favorite local craft brewery. You also have easy access to theme parks, airports, and year-round sun. What's not to love? Are you planning on moving to San Diego? Don't wait to get started on your moving plans! Contact us today to get a free detailed moving quote!