Located just 17 miles from downtown San Diego, El Cajon, CA is a location that assures you're close to the liveliness and action of a major city but far enough away to enjoy the quiet of the mountains. With just over 100,000 residents calling El Cajon home and more than 17 parks and community recreation centers, there's plenty to do both indoors and outdoors when you live in El Cajon. So, skip the headache of moving boxes and rental trucks. Allow San Diego movers help you with your upcoming move to El Cajon.
Regardless of whether you need packing, equipment hauling, antique moving, or more, you can always trust Best Fit Movers to perform your job to the highest of standards. We aim to change the way people feel about moving with every job we handle. Our dedicated full-time movers are both efficient and experienced professionals that are well-mannered and friendly. We'll provide as much or as little manpower as our clients need to get the job done safely and efficiently. 
To help make things convenient for you and your individual circumstances, we assign you with a Personal Moving Consultant. This consultant will guide you through the process, share essential pricing information, and will also answer all questions you have as your move progresses. That combined with our reliable packaging, moving, and storage solutions mean that you can depend on Best Fit Movers to get you where you need to go every time.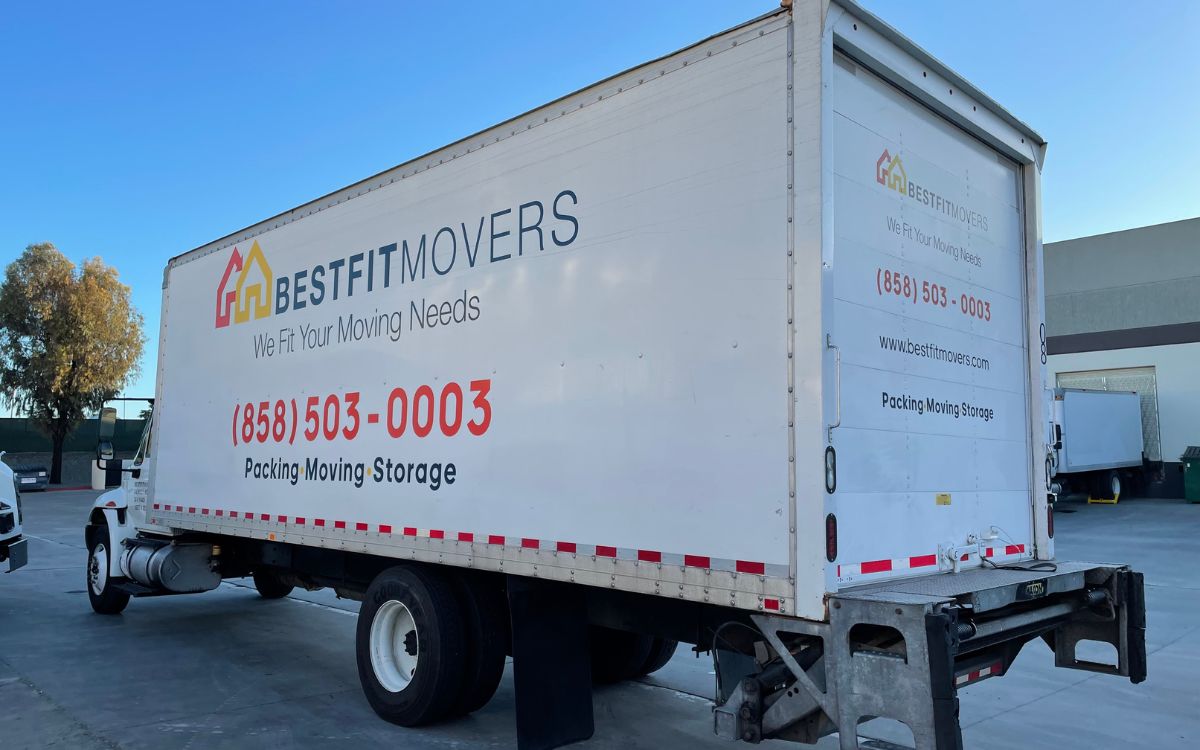 El Cajon, CA Moving Company
As a premier moving company, we fulfill the relocation needs of residents and companies in the El Cajon area and its surrounding locations. And with fair pricing and zero hidden fees, you know exactly what to expect after making initial contact. Don't stress over rental trucks and moving equipment. Let the pros at Best Fit Movers handle the heavy lifting.
Want to learn more about our stellar customer service team? Check out our Reviews page for an in-depth look at what our customers have to say about our moving services. 
Allow Best Fit Movers to Service Your Upcoming El Cajon Move 
Here's an overview of moving services that our California customers most often obtain a quote for:
We most commonly do residential moves. This involves moving an individual or family from one home to the next. The home types vary, but most commonly include single-family homes, apartment complexes, high-rise condos, and townhomes. Our staff is trained to handle any home type, so tight stairwells and historic buildings are no match for us. 
In addition to offering local moving to our El Cajon customers, we also perform long-distance moves. So even if you're looking to move around California or beyond, we can get you where you need to go.
If you've got an upcoming office move, you'll want reputable, reliable, and professional El Cajon commercial movers to execute your relocation successfully. From television studio sets to corporate offices, our movers have long been the leading choice for office moving.
For customers who don't have the time or ability to pack up their belongings before their El Cajon move, we provide packing services. We will bring the supplies and materials necessary to pack up your home. Our professional crew is trained to pack items efficiently and safely, ensuring your belongings are well prepared for the journey ahead.
The piano is a delicate and difficult-to-move instrument. The pieces all have to fit together harmoniously; it's easy to jostle a component of your piano if it's moved improperly. Also, pianos can cause damage to your home if not handled by the professionals. At Best Fit Movers, we have the crew, the equipment, and the knowledge necessary to get your piano moved.
With so many military bases, Best Fit Movers has long been a preferred mover of the government and the military. We offer efficient, secure, and reliable moving and storage services in and around the area.
More on El Cajon, CA Living
El Cajon is a city in located about 17 miles east of downtown San Diego. The city takes its name from Rancho El Cajón, which was named for the box-like shape of the valley surrounding the city. The locals lovingly refer to this city as "The Box".
Over the years, El Cajon has really prospered as a city. From its agricultural start to becoming a home for both families and young California residents, El Cajon is a city many choose to live in for its close proximity to both downtown San Diego life and quiet rural areas. 
El Cajon Weather
According to annual weather data obtain from Weather Spark, El Cajon is a dry climate with very little rainfall or snow accumulation. However, though it is prone to drought, El Cajon blesses its residents with average cooler temperatures than San Diego and Los Angeles. This is due to its proximity to peaks like El Cajon Mountain.  
El Cajon Cost of Living 
The cost of living in El Cajon is high in comparison to the national average, but housing and grocery prices are lower here than in surrounding cities. So, your cost of living will be lower than if you were to live in San Diego, Oceanside, or Los Angeles. 
Although, the housing market is competitive in El Cajon for homebuyers. As a result, El Cajon offers many rent-to-own options for renters who'd like to eventually own the location they're living in. For more information on El Cajon's housing market, check out this article published in 2020 by Realtor.com.
El Cajon Attractions
As expected, El Cajon's attractions are of the quieter variety than cities in the area. There are a lot of outdoor activities available that allow you to take in the beauty of El Cajon. Here's a list of some of the top attractions that you can visit after your move:
Check out our San Diego city page for more inspiration on attractions you can visit after your move to El Cajon, CA.
Call Best Fit Movers to Schedule Your El Cajon, CA Move Today!
You can trust Best Fit Movers to handle whatever move type you need – residential, commercial, from the top floor of an apartment, or from the farthest reaches of your storage unit. We believe in making things easy for our moving customers because moving shouldn't have to be difficult. That's why we believe in bringing our customers a stress-free experience with custom-tailored moving and storage solutions. 
You can visit our website to obtain a free moving quote, or you can give us a call anytime. You can also find detailed information on our hours and locations here. We look forward to working with on your upcoming El Cajon move!