Best Movers
in San Diego
Call our top rated San Diego movers today. Best Fit Movers offers trustworthy local and long distance moving services in San Diego for both businesses and individuals.
Top Rated San Diego
Moving Company
Best Fit Movers is a full-service moving company operating throughout San Diego. You can rely on us for help with your move itself, as well as with other services like packing and storage. With 750+ Google Reviews, we are one of the top rated local and interstate moving companies in southern California. At Best Fit we have been moving San Diego residents for many years now, and we have the experience and skills you would want and expect from a moving company. The local community, while large and expansive, is home to us, just like it will be for you.
We take our jobs very seriously at Best Fit Movers. We strive for your 100% satisfaction when it comes to your move in San Diego, home to 1.4 million and affectionately known as the Birthplace of California. Located on the coast of the Pacific Ocean and just 120 miles from L.A., San Diego is the second largest city in the state. But that shouldn't worry you! Here at Best Fit Movers, we can handle any size or type of move you may need. We will accept any challenge from moving your entire office to relocating from one home to the next. We are ready to help you move!
We believe in making things easier for our San Diego customers. We will even throw in free protective furniture pads on your moving date! Moving shouldn't be difficult. That's why we believe in bringing our customers a stress-free experience with custom-tailored San Diego moving and storage solutions. Let Best Fit Movers help you today!
Serving All of San Diego County
Best Fit Movers provides many moving solutions to accommodate your needs as a full-service San Diego moving company. In addition to offering services like packing and storage, we provide any and all kinds of moving such as residential, commercial, office, local, long distance, townhome and apartment, senior, military, employee relocation and much more.
We move your family to the following San Diego suburbs and more: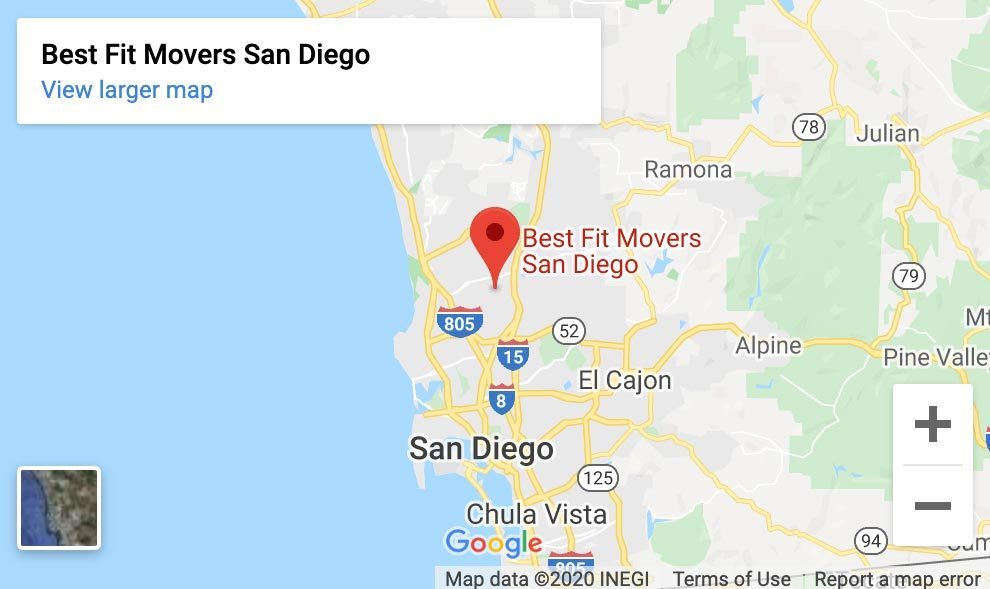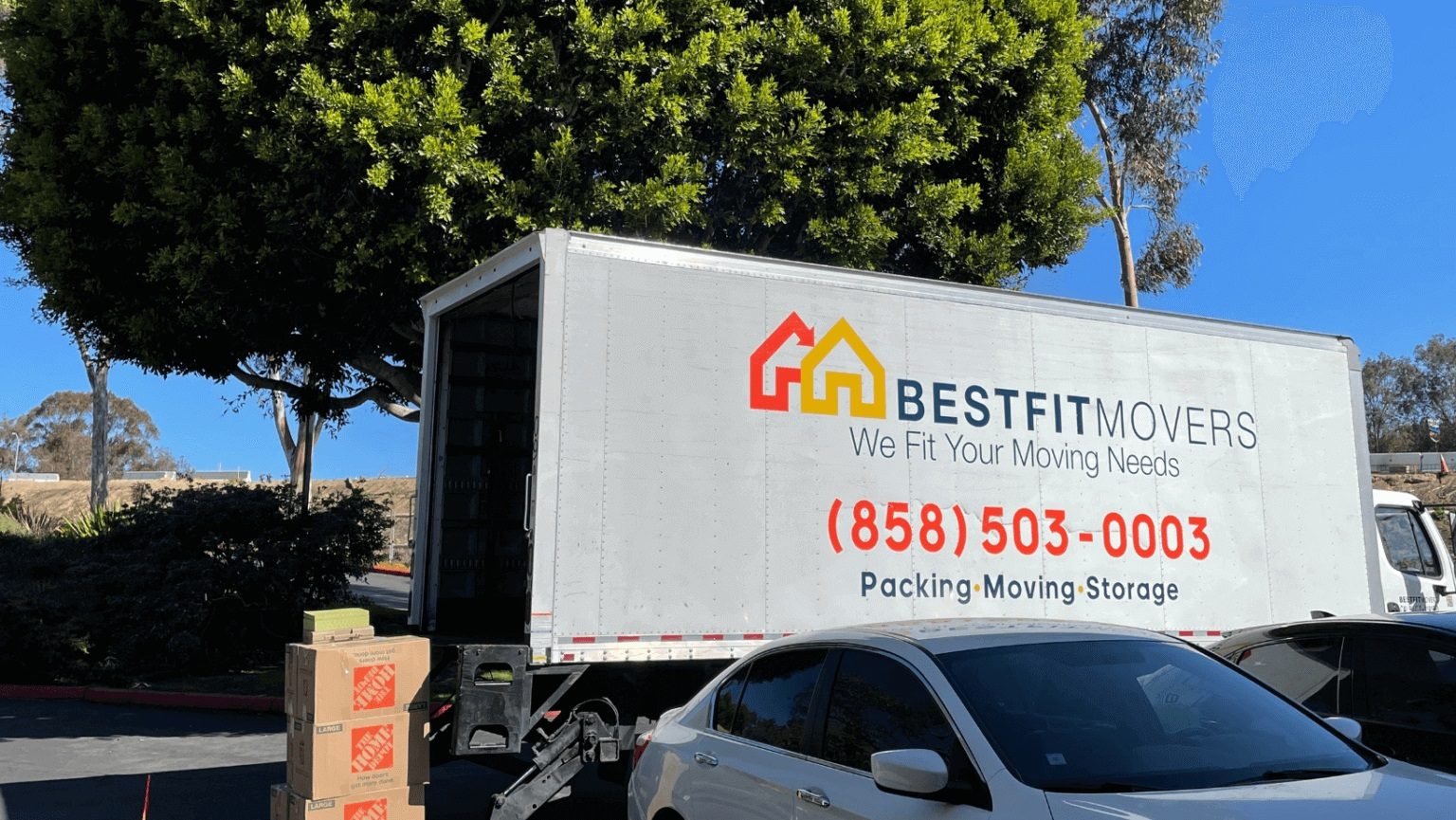 Affordable San Diego Moving Rates
With affordable moving rates and friendly personnel, we offer you the best service and best value for your San Diego move. Our service area is wide. In fact, we service all of San Diego and the following areas: Chula Vista, Oceanside, Pacific Beach, Point Loma, Poway, Ramona, Rancho Bernardo, Rancho Penasquitos, Rancho Santa Fe, Sabre Springs, Alpine, all of San Diego County, San Francisco Bay area, and Orange County.
From its 70 miles of pristine beaches perfect for surfing, sailing and swimming, to over 6,000 restaurants, San Diego has everything you are looking for. It's home to Balboa Park, the largest urban cultural park in the United States that houses 15 museums, endless art galleries, gardens, The Globe Theater and the world-famous San Diego Zoo.
Best Fit Movers Reviews

Alicia, San Diego
I found Best Fit Movers on yelp and they were a perfect fit for me and my husband. They managed to accommodate us on a short notice. From the first contact to the end of the move they were very responsive. The crew were friendly and respectful not only with us but with our belongings. No issues or problems of any kind. I highly recommend them. They will surely fit your needs!

Ashwin, San Diego
In less than 24 hours, I was able to schedule AND complete a move with Best Fit Movers. Rosa was very gracious in helping me find a window to squeeze in my last minute move request. Eloy and Albert were staffed to help me with the move. Real professionals and gentlemen, moved quickly and I didn't think for a moment they were stalling to "rake up more time." Fair and affordable prices, they've got everything stocked up in their truck that you could possibly need to help with a move, and they communicated with clarity the whole way through. Overall 12/10 service all around. Would highly recommend.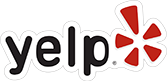 Melissa, San Francisco
The day I was scheduled to move ended up being in the middle of a downpour…. despite my stress, the two gentlemen arrived on time, and were very efficient, concise, and tidy. All of my belongings were swiftly packed and transported. They were extra cautious and wrapped all my belongings with plastic wrap to ensure no water damage. All of my belongings arrived in perfect condition. I am so pleased and so thankful to have had such professionals help me move. I highly recommend this company.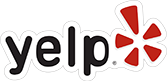 Monica, San Diego
5 stars for this team!! They were easy to set the appointment up with and kept us in the loop on their timing the morning of. The head mover (Alonso) made sure that the truck was large enough to fit our belongings, which was super appreciated. Alonso, Julio, and Marcos were phenomenal and very courteous, kind, and gentle with our belongings. They set up our washer/dryer/fridge and put together the beds and couch. I loved that they even asked if everything was set up to our satisfaction…if it wasn't, they wanted to fix it! Highly recommend!

Jagdish, Irvine
Best Fit Movers did an excellent job moving my stuff from Irvine CA to near Salt lake City UT. They were on time, in fact early to reach, absolutely no spills, drops or breakages. Each and every item from glass & ceramic cutlery to furniture with glass tops appeared at SLC in perfect condition. Sylvester and Rick from Best Fit Movers were most helpful and friendly and I am really glad I decided to go with them. Moving is stressful and tiring, to put it mildly, and selecting the right mover is in fact more trying. But I am so glad I decided to go with them. I strongly recommend Best Fit Movers to anyone who wants to make a move. Thanks Best Fit!!

Karleen, San Diego
Today I had my first experience with hiring professional movers! I was not disappointed! I was so worried about how much the total would be when said and done. All went better than expected! Robert C. and Louis came through with flying colors! They were prompt, quick and organized! I will definitely use Best Fit Movers again and will be recommending the company to anyone and everyone! Thanks guys!
Book With One Click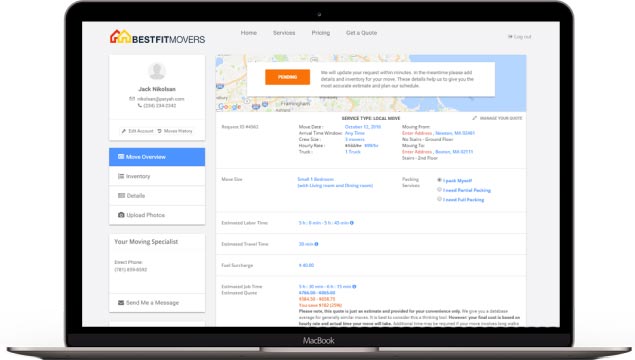 A one-click moving cost calculatorAn accurate and free moving estimate produced with the latest technology
Simple online reservationA dedicated move coordinator assigned to work closely with you. A minimum of two calls prior to your move to make sure that you are fully prepared.
Request PageInventory, Details, Chat, Information about move, confirmation, contract, terms, cancelation policy and etc.
get a detailed quote
Why Choose Best Fit Movers?
Full Service Moving Company
Rely on Experienced Movers
Best customer serviceKnow that you can reach out anytime with any issues or concerns you have about your move.
Always on budgetWe strive to provide accurate estimates for every move.
Always on timeOur team of professional movers understands you have a busy schedule and will always strive to be on time.
Friendly & knowledgableWe have dozens of years experience in the moving industry and know what it takes to complete a successful move.
Free no obligation estimatesWe do our best to provide free accurate moving estimates no matter where you're moving.
Book your move onlineEasy to use and quick way to book online.
Licensed & insured for youWe're a fully licensed and insured California moving company.
Locally owned & operatedYou're supporting a local business that knows southern California.
A+ BBB ratingWe take our reputation very seriously and have maintained a great reputation with the BBB.
Do you need attentive, affordable moving services for your home or office? Look no further than Best Fit Movers. You can entrust us with all your moving needs, from local and long-distance moves to residential and commercial relocations. We are proud to be San Diego's best moving company, featuring trustworthy movers, attention to detail, personalized service and competitive pricing.
We know San Diego because we've been doing this a long time. We live and work here too, which means we know the roadways, neighborhoods, shortcuts, downtown areas, freeways and so much more. With top-notch logistics and state of the art equipment, you can rest assured we will get you moved out and in quickly and efficiently.
Eager to know more? It all starts with a free, no-obligation quote. Get in touch with us today for more information about our services and learn how we can help you. Whether you need a local or long-distance moving company for your home or your office, we can ensure your next move will be your best. Choose Best Fit Movers in San Diego today!
Best Fit Movers truly is the BEST and most affordable moving company in San Diego. Why? For starters, we offer a wide variety of moving services, including residential and commercial moves, packing services and storage solutions. Look to us for the full spectrum of moving services.
We can pack your breakables and everything in your house, store it all overnight, and provide short-term storage for college students, or long-term storage for cross-country or international relocations.Our San Diego movers are experts in getting your valuables to their new location safely and on-time.
Our team prides itself in treating your valuables just like we would treat our own. Backed by affordable moving rates in San Diego County, our high-quality services are sought after by repeat customers time and again. We hope to become your go-to moving and storage provider in San Diego!