Moving to Spring Valley? Best Fit Movers Can Help
Moving to Spring Valley is an excellent choice! From its natural spring, to nice temperatures and nearby woodlands, Spring Valley continues to draw in residents who want to make it home for the long term. If you want to make it home too, Best Fit Movers can help!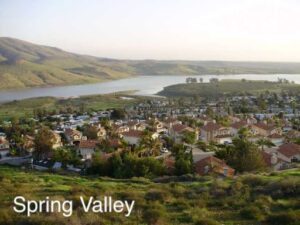 We offer full service moving solutions along with packing and storage options for both residential and commercial moves.
As your leading moving company in Spring Valley, we are dedicated to serving the relocation needs of residents and companies in Spring Valley and its surrounding communities. We are proud to offer no-hassle pricing with zero hidden charges or fees – making sure your move is not only smooth and efficient but cost-effective as well. Fully equipped with a variety of trucks to fit all of your moving needs, we are a team of professional, licensed and insured full-service movers.
Spring Valley Services
As your premier moving company in Spring Valley, we are dedicated to serving the relocation needs of both residents and companies. It's our job to handle any size or type of move you may need. No challenge is too large or small, from moving your entire office to relocating from one home to the next.
Here are our main services offered in Spring Valley:
Residential Moving

Local moves
Long-distance moves
Interstate moves
Apartment moves
Senior moves
Military moves

Commercial Moving

Corporate relocations
Employee relocations
Office moves

Storage
Packing
Your move is important to you. That's why we do everything we can to make your move less stressful – whether you're moving across town or across the state, we can get it done. We even provide free protective furniture pads so you can rest assured that your belongings are taken care of like they're our own
Moving to Spring Valley
Apart from the natural spring, nice temperatures and nearby woodlands continually drawing in new residents, Spring Valley is ranked in the Top 20 Best Suburbs to Raise a Family in the San Diego area. If that's not enough reason for you to move there, here are four other reasons why Spring Valley would be a great place to call home:
The schools excel
There are 26 public schools serving Spring Valley students with an average of 28 students per class. The top-ranking schools in the area include, Grossmont Middle College High School, Helix High School, Steele Canyon High School, Monte Vista High School and Murdock Elementary School.
The views are gorgeous
Those who call Spring Valley home state that one of the best features are the views. From rolling hills to a 2,000-foot mountain and lake, the scene is something you would find in a painting. But it doesn't stop there! Because of the landscape, there are plenty of opportunities for hiking, biking, horseback riding and camping – making Spring Valley an ideal place for those who love the outdoors.
The economy is great
Spring Valley continues to grow and more and more restaurants, shops and bars are opening. Additionally, there is a 218-unit housing project currently underway to provide more housing options for all of Spring Valley's new residents.
There are also a handful of parks and free spaces to run and play making it a safe and fun community for young families.
It's close to everything
Only 26 minutes from downtown San Diego and less than 10 miles from El Cajon and La Mesa, living in Spring Valley gives you easy access via State Highway 54 to nearby attractions, cities and amenities.
As one of the most experienced professional local movers in the Spring Valley area, you will soon see that our dedicated full-time movers are efficient and experienced professionals who are just as courteous and friendly as they are hard working. We'll provide as much or as little manpower as you need to get the job done safely and efficiently.
To book your move with Best Fit Movers in and around Spring Valley, contact us at 858-503-0003. We will be able to provide you with a free quote to help you plan.
Spring Valley Sheriff's Department
11486 Campo Road
Spring Valley, CA 91978
Non-emergency: (858) 565-5200
Spring Valley Fire Department
2850 Via Orange Way
Spring Valley, CA 91978
Non-emergency: (619) 670-0500
San Diego Gas & Electric
Residential Customers: 1-800-411-7343
Commercial Customers: 1-800-336-7343
Monday – Friday: 7:00 a.m. to 8:00 p.m
Saturday: 7:00 a.m. to 6:00 p.m
San Diego County Water Authority
4677 Overland Avenue
San Diego, CA 92123
(858) 522-6600
Monday – Thursday: 7:30 a.m. to 5:30 p.m
Every other Friday: 8:00 a.m. to 5:00 p.m
(Offices are closed alternating Fridays)
Spectrum Cable & Internet
Phone: 1-855-707-7328