San Diego Moving Company
If you're coming to California, this area is arguably the most lavish and inviting of all. Though the state has many fine places to call home, there's nowhere quite like San Diego.
Aptly dubbed "America's Finest City," this area offers an abundance of appeal, amenities, and attractions. It's no wonder that it welcomes thousands of new residents every year.
We aim to give you the finest moving experience you've ever had, whether you're moving to this location, from it, or anywhere nearby in the region. Here at Best Fit Movers, we are committed to proving that we're the best fit for your relocation needs.
Our San Diego moving company would be proud to handle your next relocation.
How Can Our San Diego Moving Company Help You?
When it's time to move to San Diego, do you have someone you can call on for help?
Moving is too much of a strenuous task to take on alone. And because of the dangers associated with packing and loading, it's not advised to ask your friends and family for help. So who do you turn to in your time of need?
Best Fit Movers brings the best credentials to support your relocation. Our San Diego moving company is:
Fully licensed and trained in top moving methods
Insured to provide extra protection for your items
Rated nearly perfect with almost 1000 reviews
Available seven days a week for your convenience
Very familiar with the San Diego region
We've got a deep understanding of both the moving process and the area. You can feel confident knowing your property is in good hands when you reach out to us.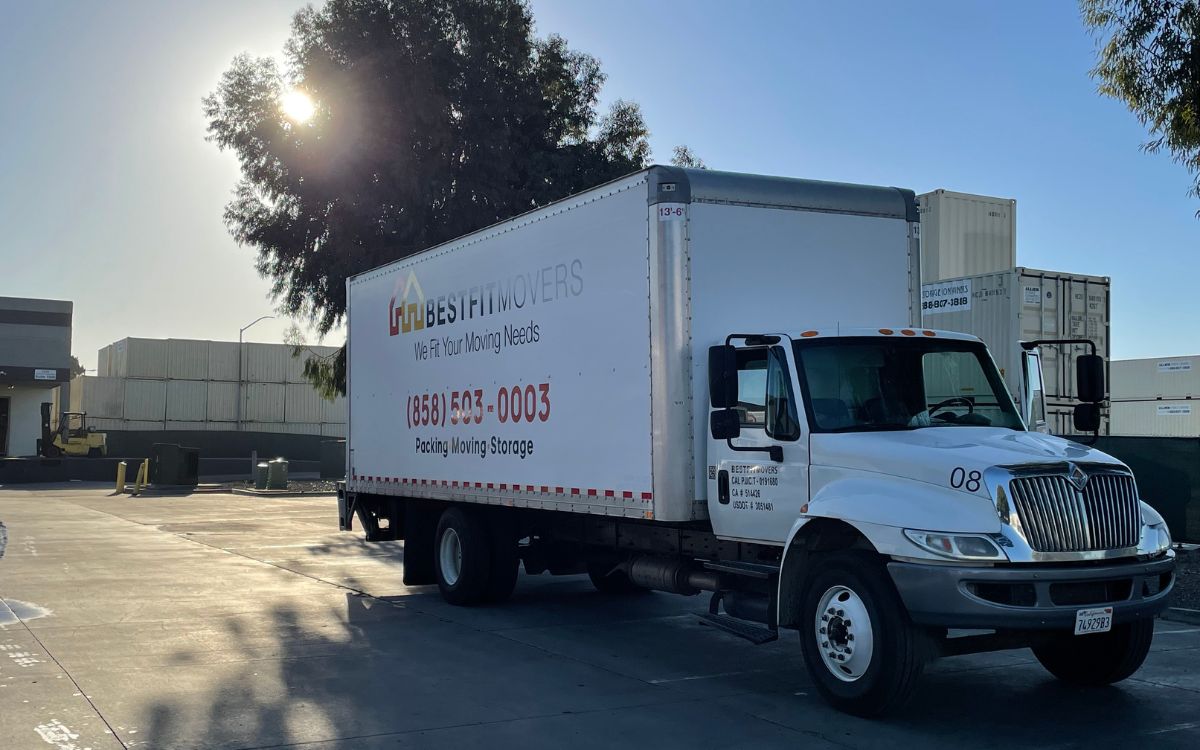 Get a Full Service Moving Experience
One of the best things about working with our movers is that we ensure you don't have to worry about any of the heavy lifting or logistics. We'll provide the supplies, equipment, and support you need for the move.
We provide professional packing supplies and spacious, clean moving trucks. We handle all aspects of the move, including:
Packing your items safely (including heavy or fragile items)
Loading and transporting your items efficiently
Helping you get unpacked and set up upon arrival
You can get everything you need from one place, allowing you to save time and money during your move. However, if you are completing one or more aspects of your move and want us to provide the remaining services, we're happy to do that as well.
Our San Diego moving company can provide you with a full-service and comprehensive solution, or we can fill in the gaps to complete your existing moving plan. Whatever the job calls for, Best Fit Movers will exceed your expectations.
Our Versatile Team Does it All
Whether you're moving locally or coming from far away, we'll provide the attention to detail you need for your moving journey. Across the coast or across the street, it makes no difference – you'll still get top-quality service from our dedicated team.
We can handle both residential and commercial moves, providing reliable protection for items from both settings. From the biggest homes and corporate facilities to compact offices and apartments, we can carry out moves in any setting. Whether it's your antique family piano or your office furniture that needs to be moved, you can count on us to transport everything with care.
Our professional storage services are perfect if you need to declutter or you're stuck between moves. We're also especially happy to help our senior and military customers. You've got a new destination to focus on, so let us handle the heavy lifting along the way.
Why Should You Move to San Diego?
San Diego, the vibrant coastal city nestled in Southern California, offers an enchanting blend of natural beauty, a thriving economy, and a wide array of amenities that make it an attractive destination for individuals and families alike.
With its stunning beaches, lush parks, diverse job prospects, and vibrant cultural scene, San Diego has become a highly sought-after location for those looking to relocate.
Natural Beauty on Land and Sea
With over 70 miles of pristine coastline, the city boasts some of the most breathtaking beaches in California. From the iconic Pacific Beach to the serene La Jolla Cove, there are endless opportunities to bask in the sun, surf, or simply enjoy a leisurely stroll along the sandy shores.
Additionally, the city is home to a plethora of parks and open spaces, including Balboa Park, which spans 1,200 acres and offers a host of recreational activities, gardens, museums, and even the renowned San Diego Zoo. Nature enthusiasts will also appreciate the nearby Torrey Pines State Natural Reserve, where stunning cliffs and hiking trails await.
A Powerful Economy That Leads Industries
San Diego's economy is another compelling reason to consider a move. The city is home to several industry leaders, making it a hub for employment opportunities.
The biotechnology and healthcare sectors are particularly strong, with many brilliant companies driving innovation and growth. Additionally, the defense and military sectors play a significant role, with major military installations contributing to the local economy.
Fun in the Sun for Everyone
San Diego certainly isn't all work and no play. Beyond its natural beauty and thriving economy, San Diego offers a wealth of amenities that cater to every interest.
Families will find an abundance of family-friendly attractions, including the world-famous San Diego Zoo, LEGOLAND California, and the interactive exhibits at the Fleet Science Center. The city's rich cultural scene is evident in its numerous museums, art galleries, and theaters, showcasing everything from contemporary art to classical performances.
As the sun sets, San Diego's vibrant nightlife comes alive, with an array of trendy bars, clubs, and live music venues that cater to diverse tastes. The Gaslamp Quarter, known for its lively atmosphere and historic architecture, is a favorite destination for locals and visitors alike.
Call Our San Diego Moving Company Today
In conclusion, moving to San Diego presents an opportunity to immerse oneself in a city known for stunning scenery, amazing companies, and fun for the whole family. Whether you're seeking a laid-back beach lifestyle, professional growth, or a lively social scene, San Diego has something for everyone.
If you've decided that San Diego or anywhere nearby is your future home, decide to make us your moving partners. We provide everything you need for the trip, so the journey will be just as enjoyable as the destination. We offer:
Packing and unpacking
Loading and unloading
Transport and storage
Home and apartment moves
Piano moves
Senior moves
Military moves
No matter where you're moving, how much you have to pack, or what concerns you have, we're ready to give you the optimal relocation experience. Contact us today for a free estimate.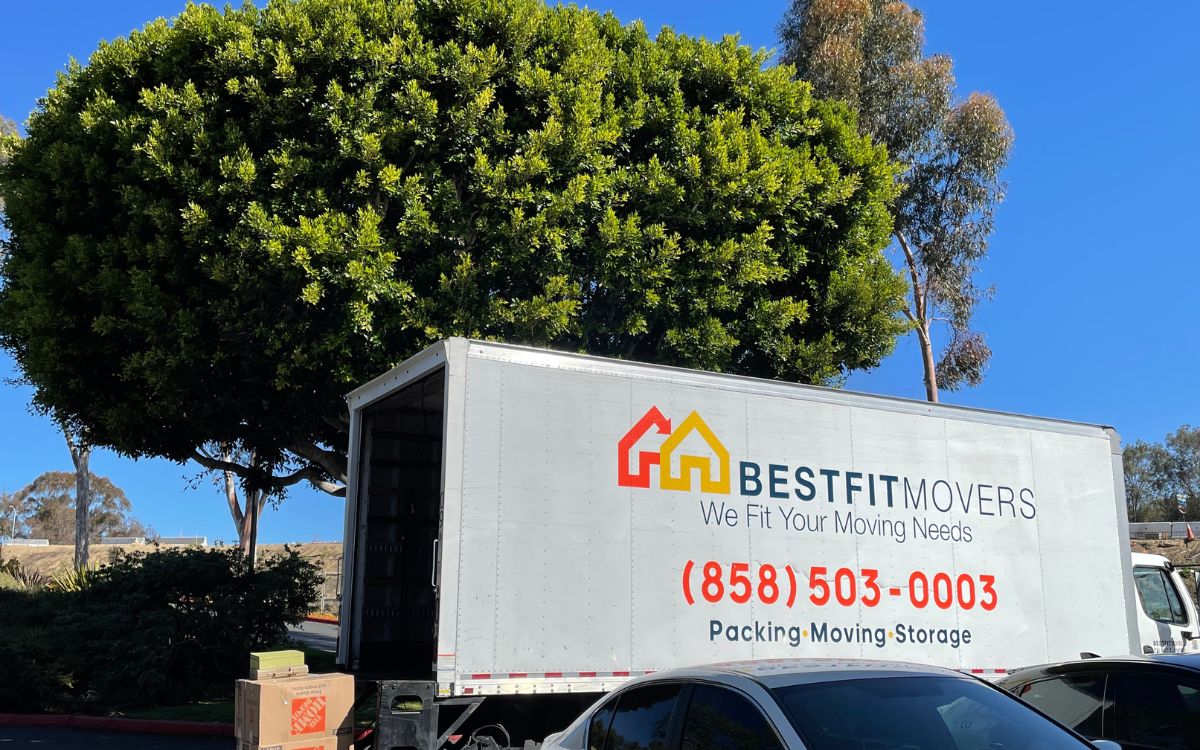 Other Areas Served
At Best Fit Movers, we serve your San Diego suburbs in the following cities and more:
San Diego Chamber of Commerce
402 W. Broadway #1000
San Diego, CA 92101
619-544-1300
Monday – Friday: 8:00 am to 5:00 pm
San Diego City Hall
202 C St
San Diego, CA 92101
(619) 236-5555
Monday – Friday: 8:00 am to 5:00 pm
San Diego Police Department
1401 Broadway
San Diego, CA 92101
Non-emergency: 619-531-2000
San Diego DMV
3960 Normal St
San Diego, CA 92103
(800) 777-0133
Monday – Friday: 8:00 am to 5:00 pm
Scripps Mercy Hospital San Diego
4077 Fifth Ave
San Diego, CA 92103
(619) 294-8111
San Diego Gas & Electric
Residential Customers: 1-800-411-7343
Commercial Customers: 1-800-336-7343
Monday – Friday: 7:00 a.m. to 8:00 p.m
Saturday: 7:00 a.m. to 6:00 p.m
San Diego County Water Authority
4677 Overland Avenue
San Diego, CA 92123
(858) 522-6600
Monday – Thursday: 7:30 a.m. to 5:30 p.m
Every other Friday: 8:00 a.m. to 5:00 p.m
(Offices are closed alternating Fridays)
Spectrum Cable & Internet
Phone: 1-855-707-7328