Are you planning a move in or around San Diego and need a reliable moving solution? Let Clairemont Movers, your preferred choice for local and long-distance relocation, handle all your moving needs. We are the go-to full-service movers in Clairemont, serving not just San Diego but also surrounding areas.
Why should you choose us for your upcoming move? Simply put, we exist to eliminate the stress often associated with unreliable movers and rental truck services. Whether it's packing, equipment hauling or delicate item moving – trust Clairemont Movers to execute every task to the highest standards.
We at Clairemont Movers aim to redefine how people perceive moving. Our team of dedicated professionals is efficient, experienced and friendly – ready to provide as much manpower as needed to ensure a safe and smooth transition.
As one of the leading movers in Clairemont area, we cater comprehensively for both residential and commercial relocations. With our transparent pricing policy that includes zero hidden fees – you know exactly what costs lie ahead after making initial contact with us. Leave behind worries about rental trucks or heavy lifting; let our experts take care of everything!
Comprehensive Moving Services by Clairemont Movers
With Best Fit Movers, we strive to ensure that your new chapter in life is as effortless and anxiety-free as possible with our comprehensive moving services. At Best Fit Movers, we're # to make that transition as smooth and stress-free as possible with our extensive range of moving services.
Your abode is not just four walls and a roof; it's filled with recollections, cherished items, and individual belongings. Whether you're upsizing or downsizing within San Diego or planning an interstate move, we have the experience needed for safe transportation of all household items.
We offer packing assistance using high-quality materials designed specifically for fragile goods. From furniture disassembly/reassembly service to providing wardrobe boxes for easy clothing transport – every aspect has been thoughtfully considered ensuring seamless residential moves. Learn more about our residential moving services #.
If you're tasked with overseeing your company's move, you'll be glad to know that Best Fit Movers can help ensure everything goes smoothly. As experienced commercial movers based out of Clairemont, we understand the unique needs businesses face during relocation.
Our team specializes in handling sensitive equipment like computers servers along with office furniture assembly/disassembly if required. Moreover, all items are properly secured in transit using dollies, hand-trucks, and straps, ensuring they reach their destination intact.
Pre-planning Relocation Recommendations
Moving doesn't need to be a stressful and overwhelming task. With the right guidance, the thorough pre-planning process becomes much simpler and manageable. That's w# we come into the picture.
Pre-planning and Relocation Recommendations
Moving, whether it's CA local moving in Clairemont or a long-distance relocation to San Diego, requires meticulous planning. The key lies in pre-planning your move – an approach that can significantly reduce stress levels while ensuring a seamless transition.
Take advantage of this chance to simplify your life by sorting out what you want to keep, donate, or discard. Pre-planning allows you ample time for sorting out belongings into categories like keep, donate, or discard. This process not only reduces clutter but also cuts down on unnecessary transportation costs.
Benefits of Pre-planning Your Move
A detailed inventory list is one significant benefit here; it serves as an essential tool in tracking items throughout the move. It aids in avoiding misplacement or loss of any item while ensuring everything reaches its designated spot at the new location – just another reason why we're considered among the top-notch Clairemont movers.
The benefits don't stop there though. Early planning provides enough time for researching various aspects such as packing materials supply, furniture disassembly/reassembly, along with actual transport. This ensures safe handling plus timely delivery, thereby making relocation hassle-free.
Top Relocation Recommendations
Beyond mere logistics, our team of professionals is committed to providing comprehensive services tailored according to specific needs and budget constraints. We've seen firsthand how effective strategies lead to successful moves without breaking the bank, leaving customers satisfied with their decision to choose us as their preferred mover today.
Packing Room-by-Room:

Packing room by room helps maintain organization, preventing mix-up of items from different rooms in boxes. Remember to label each box with details about its contents as well as the intended location in the new place – this is crucial too.

Create an Essentials Box:

An essentials box containing necessary items immediately upon arrival, such as toiletries and a change of clothes, can save you from rummaging through numerous boxes right after a long day. It is very helpful during the initial settling period.

Hire Professional Movers:
If possible, consider hiring professional movers who provide comprehensive services, including material supplies, furniture assembly/disassembly, alongside transport, to ensure a smooth and efficient experience. Feel free to get in touch to discuss your next big move and make it an easy journey. Best Fit Movers Moving & Storage offers a full range of services for residents and businesses alike. Contact us directly or submit a quote form on our website for an estimate that fits within your budget range and solutions.
Specialized Packing Solutions
Moving can be a stressful endeavor, especially when it comes to packing. At Best Fit Movers, we recognize that your possessions are not just items; they carry memories and sentimental value. Our team of experienced movers is highly skilled in safely and securely managing all kinds of valuable items with the utmost care.
Professional Packing Techniques for Valuables
Packing valuable items demands particular attention and expertise. From antique furniture pieces to delicate china sets, our expert packers utilize top-notch materials and time-tested techniques to ensure their safe transportation.
This could involve using bubble wrap or padded boxes for extra protection against shocks during transit. Additionally, heavier items may be crated separately to prevent damage from other goods shifting inside the moving truck.
All packed boxes are clearly labeled according to content type and room destination, aiding efficient unpacking while prioritizing which boxes need careful handling when loading and unloading.
Storage Solutions Offered By Us
Sometimes you might prefer not moving everything into your new home or office space at once due to various reasons like ongoing renovation work or lack of an immediate space utilization plan. In such scenarios, storage solutions become invaluable assets.
All stored goods remain under constant surveillance within our secure facilities until they're ready for delivery at your convenience. This ensures peace of mind, knowing that even if some belongings aren't immediately relocated with you, they're still being taken care of by professionals who understand their worth beyond monetary terms.
Office Moving & Specialized Services
Moving an office necessitates careful organizing and implementation. Best Fit Movers, your trusted Clairemont movers, understand this complexity and are equipped to handle it with precision.
General Office Moving Procedures
The first step in our process involves understanding the unique needs of your business move. We assess key items for transport, determine packing requirements, and establish timelines that cause minimal disruption to your operations.
We also take care of disassembly and reassembly of furniture pieces as needed during the moving process. Our team uses professional equipment like dollies, hand-trucks, and straps ensuring secure transit for all belongings. This attention to detail sets us apart from other San Diego Clairemont movers.
In addition, we don't just leave you amidst empty boxes once everything has been unloaded at the new location; debris removal is part of our comprehensive service package so you can focus on settling into the new workspace without any hassle or delay.
Available Specialized Moving Services
Beyond general relocation services, businesses often have specific demands depending upon their nature; these could range from handling sensitive equipment to transporting valuable artwork or antiques. At Best Fit Movers, we offer specialized moving services tailored according to such unique requirements including provision for additional insurance coverage if necessary.
We at Best Fit Movers understand the unique needs of both household and commercial goods when it comes to storage. Our full-service solutions are designed with a focus on safety, convenience, and efficiency.
Our services extend beyond mere transportation – we offer complete packing for furniture, delicate items, and more along with our flexible storage options. It's all part of how we ensure your moving experience is as smooth as possible.
Household Goods Storage Options
The diversity in every home demands different types of storage solutions. Whether you're downsizing or need temporary space during relocation, our team has got you covered.
We employ professional packing techniques that guarantee the protection of your valuables while they're stored away. From antique pieces to fragile china sets; preserving their condition is paramount to us.
In addition to this comprehensive service offering, we provide short-term and long-term options based on specific requirements ensuring flexibility throughout your move.
Commercial Goods Storage Options
Moving a business involves several complexities including dealing with excess inventory documents other assets requiring secure housing between moves. We cater such scenarios by providing specialized facilities. These spaces aren't just spacious but also highly secured giving peace mind storing sensitive company property like client files expensive equipment.
Packaging each item before entering one these facilities upon removal ready transport again receives same level care goal always minimizing downtime businesses can get back running smoothly soon after relocation.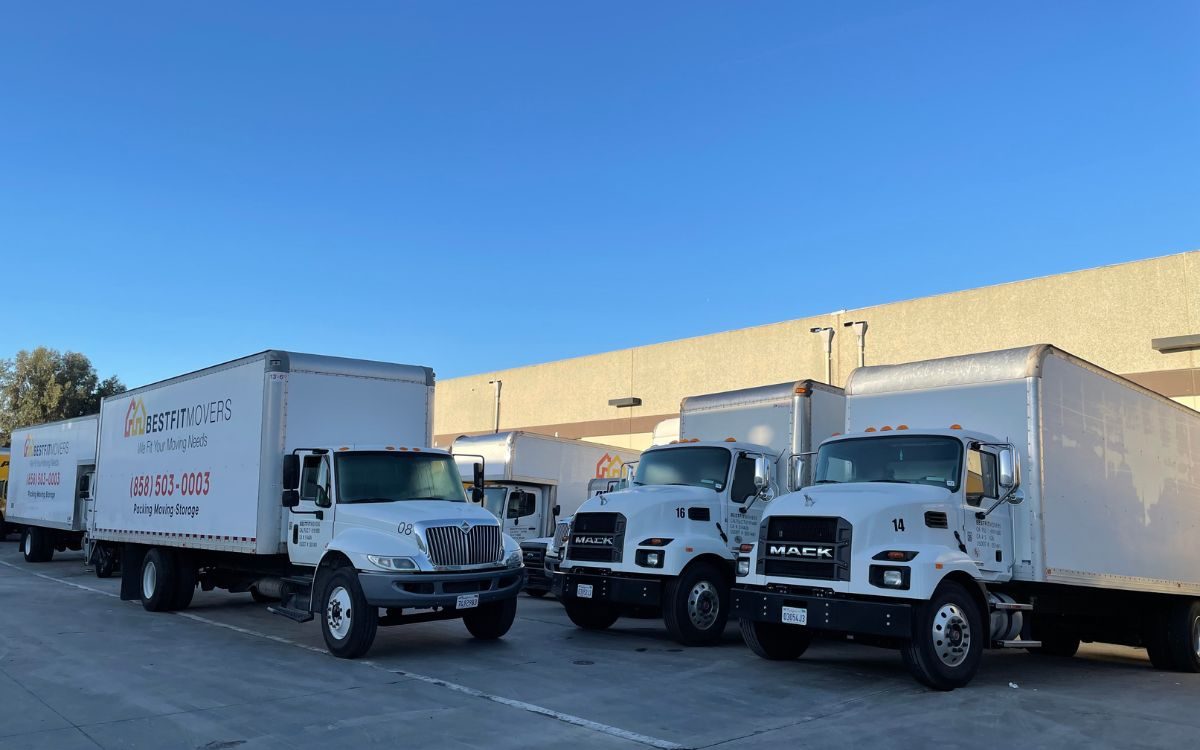 CHECK FOR AVAILABILITY AND GET A QUOTE
If considering hiring movers Clairemont handle aspects including convenient full-service then consider Moving & Reach out today.
HOW TO REQUEST FREE ESTIMATE?
Contacting directly phone will connect immediately friendly customer representative happy answer questions regarding availability pricing etcetera. Alternatively, fill quote form website take less than five minutes. Once received review details respond promptly accurate tailored specifically suit budget. Remember estimates free no obligation whatsoever.
WHAT'S INCLUDED IN THE QUOTE?
Your personalized includes everything labor costs fuel charges materials used even potential additional fees might incur example stairs involved require special handling large heavy items transparent straightforward doing value greatly appreciate clients help make next transition smooth stress-free deserves. Contact now start planning perfect together.
Check For Availability And Get A Quote
With Best Fit Movers, relocating can be a breeze and free of anxiety. We're here to make the process as smooth and stress-free as possible.
How To Request A Free Estimate?
To kickstart your moving journey, you'll need an estimate of what it might cost. That's where we come in – offering free estimates for our comprehensive range of services is just one way that we show our commitment to customer satisfaction. You can request this estimate simply by reaching out directly via phone or email.
If you prefer online interaction over traditional methods, Best Fit Movers has got you covered. Just fill up a simple form available on our website providing basic information regarding the relocation plan and voila. One step closer towards making that big move.
What's Included In The Quote?
The quote provided will cover everything necessary for a successful relocation experience starting from packing materials required such as blankets used for protecting furniture during transit along with disassembly & reassembly if needed. Transportation costs including loading/unloading plus debris removal at the new location also form part of the quoted price ensuring no hidden surprises later.
In addition, professional movers utilize essential tools such as dollies, hand-trucks, and straps for securing transport, preventing potential damage en route, thus giving peace of mind knowing belongings are in safe hands throughout the entire process.
If additional services are requested, long-term storage solutions would be included within the final quotation, with a transparent breakdown without any hidden fees, delivering value for money every step of the way.
Your trust and confidence in choosing us as your next mover today. Let's start the journey together and embark on an exciting chapter in your life. Remember, our aim is to provide the best fit solution catered to your individual client needs and preferences, so don't hesitate to contact us now and get started planning the perfect move.