San Diego Long Distance Moving Company
Moving over a long-distance poses many stressful challenges for you as a homeowner. You need someone who can take a bit of the burden off your shoulders, and that's where Best Fit Movers comes in. Long-distance moves are our specialty, whether you're moving several towns over or to another state.
The logistics involved in a move of more than 50-100 miles can be mind boggling. Having professionals on your side who can take care of the logistics is critical, such as which routes to take to avoid traffic, timing the job out to ensure you get to the new destination within your timeline, and how to properly pack your belongings in the truck for the long haul. We have these down to a science.
Our focus is on efficiently packing and loading your belongings so they don't get damaged on route, while ensuring the smoothest possible relocation to your new house. You have enough to worry about, what with moving your family, transferring utilities, and more. Let us make at least one part of your relocation go smoothly.
Why Choose Us For Your Long Distance Move
Our long distance moving services require a specific set of skills, knowledge and expertise in order to make it a successful relocation for all involved. We will customize a plan that's tailored to fit your specific move, including flexibility, choices that fit within your stated budget, and open lines of communication at every turn. Our professionals will pack, transport, and make sure your belongings get to your new home safely and right on time.
We understand your timeline is important. Your items need to make it to the new property within a specified time period, in order to avoid staying at a hotel or putting things in storage. No worries: we have you covered, sticking to all timelines as best as possible to ensure your total satisfaction.
We offer a wide range of long distance moving benefits that include these and more:
Free in-home estimate
Full-service packing
Fragile-only packing
Short and long-term storage options
One-time fee determined by space
Blankets for protecting your furniture
Disassembly and reassembly of your furniture
Use of wardrobe boxes
Dollies, hand-trucks and straps for securing your belongings
Known for our efficient long distance moves, you can choose Best Fit Movers with confidence. We take the stress of moving off your shoulders and do the heavy lifting for you.
Professional Long Distance Moving Services
We even offer packing and storage, too!
We provide the moving supplies and boxes and our San Diego packers are experienced in wrapping, protecting and packing all types of valuables, furniture and any other possessions you are looking to safeguard. We promise to handle your things like they are our own. To keep your items undamaged we provide and utilize all types of specialized packing materials to protect and secure your items while they are being moved, stored, loaded or shipped.
If you need storage, our San Diego storage services are unmatched in the industry. We strive to make our San Diego storage services affordable, convenient and flexible for our customers. As always, our customers can be sure that their belongings will be secure and cared for while stored in our facility. When you choose Best Fit Movers for storage, you know you are receiving the best San Diego storage services available.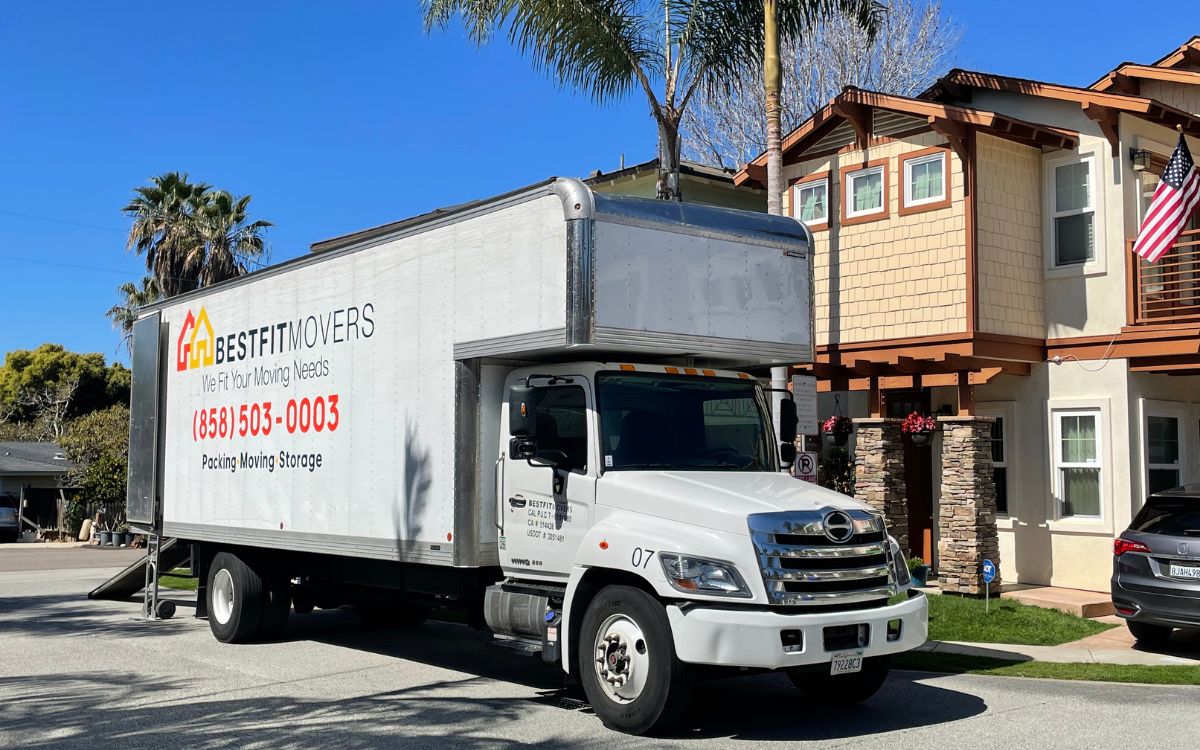 Here's why:
Secure, well-staffed and fully alarm monitored storage in our well-ventilated, well-maintained facility
Full inventory of your items, including the condition they are in before loading
Easy at-home registration so you never have to leave your home to set up your storage contract
Convenient access to your goods by appointment. If you just need an item or two, we can take you to your storage vault and assist you with unloading your item inside the warehouse. (a small fee applies)
Trouble-free delivery of your stored items (either in part or in full) or pick up of additional items. Call us any time to schedule a pick-up or delivery, and our professional movers will take care of it for you.
Purchase storage insurance, so you never have to worry about your items when they are in transit or in storage. (See www.MovingInsurance.com.)
Ready to Book Your San Diego Long Distance Move?
To schedule your San Diego move with Best Fit Movers, contact us. Let us give you with a free quote to help you plan your next move.
Our Long Distance Movers
Moving from Los Angeles to Orange County
Moving from Los Angeles to San Francisco
Moving from Orange County to San Francisco
Moving from San Diego to Seattle
Moving from San Diego to Portland
Moving from San Diego to Orange County
Moving from San Diego to Phoenix