Do you have an upcoming local move from Los Angeles, CA to Orange County, CA? Instead of wondering where to start planning your approaching move, check out this in-depth guide to get you on the right path toward thriving in your new home in Orange County. 
How Much Does It Cost to Move from Los Angeles to Orange County?
Considered as a local move in the industry, the distance between Los Angeles and Orange County is around 40 miles, give or take depending on your origin and destination locations. It usually takes about 30-40 minutes to get from one to the other, making it difficult for most people to just load up essentials into their car and drive them over. At a minimum, people moving from Los Angeles to Orange County need to rent a moving truck. But for stress-free moving, customers hire local, full-service movers to accomplish this type of move.
The average cost to hire local movers in and around the Los Angeles area to get you to Orange County is about $2000. If your situation has unique circumstances, like you're on the top floor of your apartment or you need specialty furniture moving, expect to pay a bit more.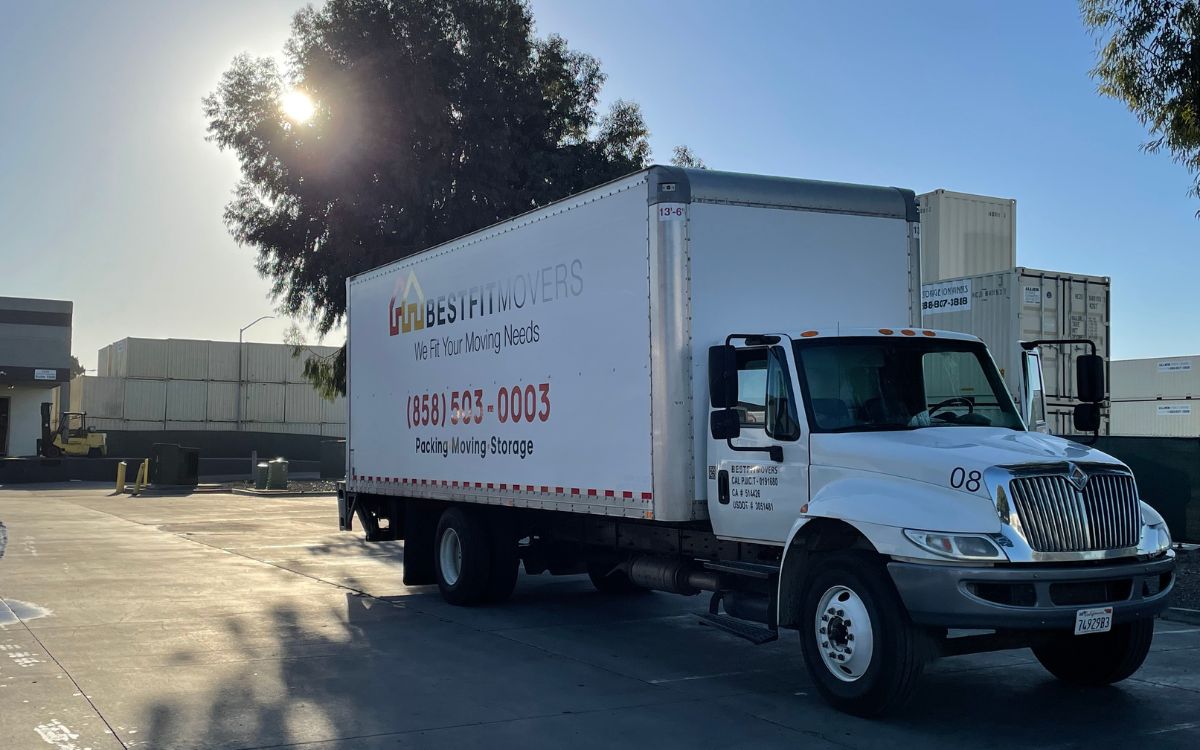 Best Fit Movers Can Help You Move from Los Angeles to Orange County
At Best Fit Movers, we pride ourselves on our local moving services. Local moves in and around the Los Angeles and Orange County areas are something we do every single day of the week. We know the neighborhoods, highways, byways, and backroads of these areas. We can get you where you need to go quickly and efficiently. 
Our local moving services are catered to our customers' needs. We offer the following with our local moves:
Free in-home estimates

 

Blankets and padding to protect your furniture and floors

Disassembly and reassembly of your large furniture items

 

Use of wardrobe boxes and padding for décor items

Dollies, hand-trucks, and straps for securing your belongings

Piano and antique moving

Temporary and permanent storage solutions

Packing services for household goods
What to Know When You're Moving to Orange County
Now that you've handled the movers, you can get excited about your new location. California is one of the most beautiful and most visited states in the United States. It's home to vast beaches and breathtaking national parks, and that's not even including the thriving cities smattered along the coastline. 
With awesome beaches, hiking spots, and awesome desert getaways, it's no wonder why Orange County has been called California's favorite destination for families. It's got highly rated schools and accessible suburban living. 
Though, with dreamy landscapes and thriving education come downsides. Specifically, the cost of living in Orange County is a bit higher than other surrounding areas. Also, the tourism is remarkably high in this location, meaning you should expect to meet plenty of smiling, sunburned faces in your new neighborhood. 
Weather 
Orange County has short, clear summers with long, cool, cloudy winters. The weather is often mild, and rarely exceeds 93°F or goes below 38°F. It's perfect weather for people who like exploring the outdoors or want to live somewhere that allows them to enjoy plenty of kid-friendly activities. 
In Orange County, the best time to enjoy warm-weather activities is from late May to early October. With cool breezes on sunny beaches, the residents of Orange County couldn't ask for much else. Well, except for a bit more rain. 
Public Transportation
Orange County brings a suburban feel to a city environment. The neighborhoods are typically affluent, but with a high percentage of renters, Orange County remains public transit friendly. 
Orange County offers both train services and bus services to its residents. If interested in learning more about public transportation in Orange County, you can head over to the Orange County Transportation Authority website. 
Cost of Living
According to 2022 data pulled from PayScale, Orange County's cost of living is 54% higher than the national average. Housing accounts for much of that cost, with Orange County's average housing rates sitting 155% higher than the national average.
That's partly due to the allure of the location. The weather is desirable for many and the surrounding locations within Orange County draw plenty of tourism year-round. In fact, Orange County is the third-biggest county in California. Some of its most popular neighborhoods include Anaheim, Garden Gove, and Huntington Beach. 
Employment in Orange County
As of September 2022, the unemployment rate in Orange County, CA sat at about 2.7%. It's dropped sharply since peak levels hit during the COVID-19 pandemic in 2020. Orange County has welcomed many young and experienced professionals back to its workforce since reopening many of its tourism locations and businesses.
Expect to find employment opportunities in technology and startup businesses. California is the land of opportunity for future tech geniuses. 
Top Attractions in Orange County
Orange County has a wide variety of attractions fit for families and individual to enjoy. Though we couldn't list them all, here are some of the top attractions Orange County:
Disneyland

: Located in Anaheim, Disneyland attracts tons of tourists throughout the season. There's no better reason to visit than becoming a resident of Orange County yourself.

Huntington City Beach

: Go enjoy the sandy beaches and beautiful piers of Huntington City. Want to avoid tourists? Pack a blanket and walk the beach in the wintertime.

 

Balboa Island Ferry

: This well-loved ferry has been running its continuous service for drivers and passengers since 1919.

Knott's Berry Farm

: Visit a theme park with an emphasis on family fun and good food. Knott's Berry Farm can offer a unique and delicious weekend of fun for anyone!

Habana

: Want to sit down for an intimate meal along the coast? This restaurant is a must visit for anyone around the Orange County area.

 

Brodard

: Grab a bite at this beloved Vietnamese restaurant right in Orange County.

 
Book Your Move from Los Angeles to Orange County Today
Whatever the need, we can get you where you need to go. Allow Best Fit Movers to service your upcoming local move from Los Angeles to Orange County. From packing services to temporary storage between rental dates, we can handle your upcoming move so you can focus on the rest.
Give us a call today or you can visit our website to obtain a free moving quote.