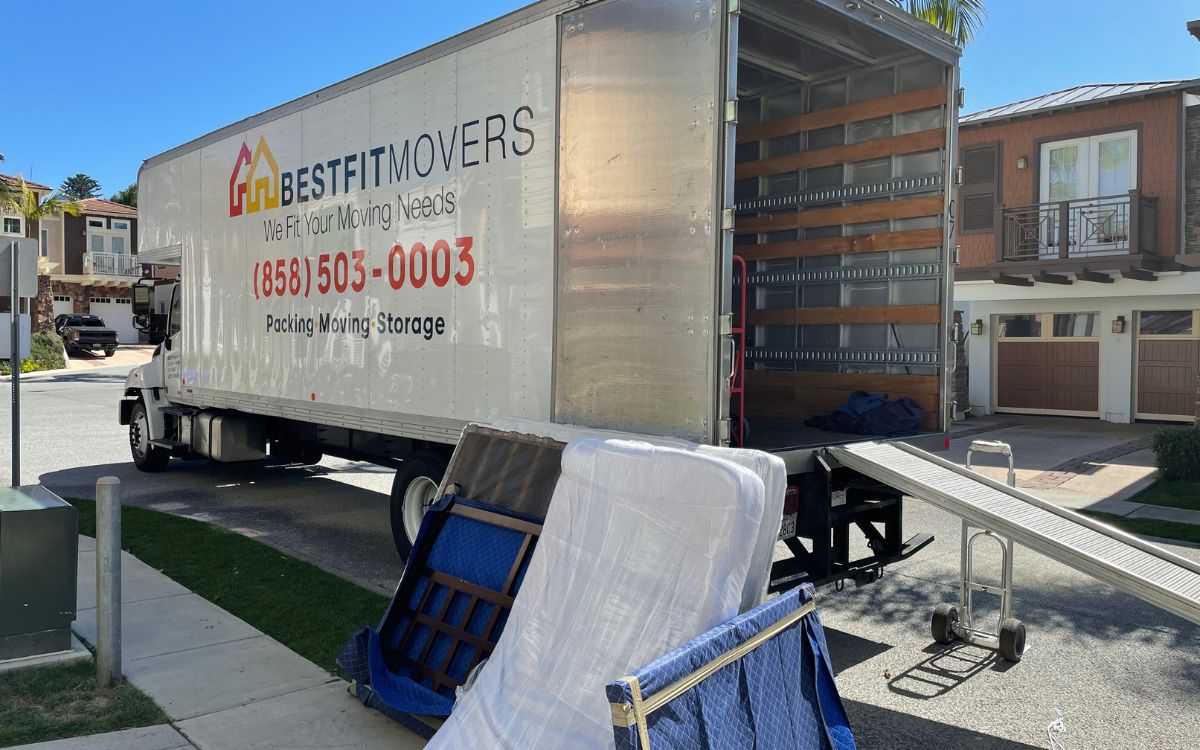 As San Diego, Orange County, and Los Angeles's favorite full-service moving solution, we know all about what attracts people to moving to or around the Los Angeles area. Commonly referred to as The City of Angels, Los Angeles (LA) is the largest city in California and the second-most populated city in the United States. With a population of over 3.8 million, LA is well-beloved for its deep attachment to Hollywood glamour, sunny climate, and thriving metropolitan areas.
There's a reason so many want to move to and around LA. At Best Fit Movers, we've loved servicing any need for our Los Angeles customers. With over 1600 reviews and a 4.9/5-star rating, we've been LA's most trustworthy moving solution for years.
Los Angeles Moving Company
For a reliable moving solution that fits all your needs every time, give us a call at Best Fit Movers. Our moving services cover just about any requirement; our crews are trained to handle all cases professionally and efficiently. 
And with fair pricing and zero hidden fees, you know exactly what to expect after making initial contact. Don't stress over rental trucks and moving equipment. Let the pros at Best Fit Movers handle the heavy lifting.
Allow Best Fit Movers to Service Your Upcoming Los Angeles Move (H2) 
Though not all our services are listed below, here's an overview of moving services that our California customers most often obtain a quote for:
We most commonly do residential moves. This involves moving an individual or family from one home to the next. The home types vary, but most commonly include single-family homes, apartment complexes, high-rise condos, and townhomes. Our staff is trained to handle any home type, so tight stairwells and historic buildings are no match for us. 
In addition to offering local moving to our Los Angeles customers, we also perform long-distance moves. So even if you're looking to move around California or beyond, we can get you where you need to go.
If you've got an upcoming office move, you'll want reputable, reliable, and professional Los Angeles commercial movers to execute your relocation successfully. From television studio sets to corporate offices, our movers have long been the leading choice for office moving.
For customers who don't have the time or ability to pack up their belongings before their Los Angeles move, we provide packing services. We will bring the supplies and materials necessary to pack up your home. Our professional crew is trained to pack items efficiently and safely, ensuring your belongings are well prepared for the journey ahead.
The piano is a delicate and difficult-to-move instrument. The pieces all have to fit together harmoniously; it's easy to jostle a component of your piano if it's moved improperly. Also, pianos can cause damage to your home if not handled by the professionals. At Best Fit Movers, we have the crew, the equipment, and the knowledge necessary to get your piano moved.
With so many military bases, Best Fit Movers has long been a preferred mover of the government and the military. We offer efficient, secure, and reliable moving and storage services in and around the LA area.
More About Los Angeles Living
There are a lot of pros and cons to calling Los Angeles your home. There's always something to do, but there's always traffic. It's a great place to soak in the sunshine, but the cost of living is high. You're never far from a fantastic ocean view, but you're also never far from a lot of people. 
Let's cover a bit more about Los Angeles living. From housing to attractions to visit, there's plenty to love about this popular city.
Los Angeles Weather
LA weather can be best described a double-edged sword. The good part of the weather is that you don't have to deal with cold, wet winters. The area sees very little snow and rain.
But the downside to that is that LA, and California as a whole, deals with consistent drought conditions. Living in LA means understanding the value of clean, running water all that much more.
Los Angeles Cost of Living 
As to be expected with such a major city, LA has a high cost of living compared to the national average. It's about 49% more expensive to live in LA than the average across the United States. 
As with most cases, most of that can be attributed to housing costs. Because the population is so dense, it's more difficult to obtain housing at affordable rates. The market is more competitive, making both renting and purchasing a home pricier than in neighboring cities.
Los Angeles Job Opportunities
There are a large number of opportunities for employment in Los Angeles, especially in the entertainment and technology industries. 
However, because of the sprawling metropolitan areas and dense population, employment is more competitive. As of November 2022, Los Angeles's unemployment rate sits at 4.5, which is a little over a point higher than the national average. 
Los Angeles Attractions
Sure, Los Angeles is home to Universal Studios, which attracts millions of tourists every year. But there's plenty to do outside of Disney's thrilling park. Here are some of the top attractions to visit after you move to LA:
Call Best Fit Movers to Schedule Your Los Angeles Move Today! 
You can trust Best Fit Movers to handle whatever move type you need – residential, commercial, from the top floor of an apartment, or from the farthest reaches of your storage unit. We believe in making things easy for our moving customers because moving shouldn't have to be difficult. That's why we believe in bringing our customers a stress-free experience with custom-tailored Los Angeles moving and storage solutions. 
You can visit our website to obtain a free moving quote, or you can give us a call anytime. You can also find detailed information on our hours and locations here. We look forward to working with on your upcoming Los Angeles move!
Client Reviews
Aron Rath
Movers were fantastic! They definitely knew what they were doing and were hard workers. Would highly recommend using Best Fit Movers. Well worth the money.

_________________________________________________________________________________
Fred Brown
Great communication. They moved quickly, did not take any breaks and put everything where I wanted it. Also, asked at the end if there was anything else they could do. They were polite and very careful with my items. Yes, I recommend them!

_________________________________________________________________________________
Elias M. Mueller
Thank you you did a great job. I have reviewed you positively on Yelp but will also put that review on Google and Thumbtack. But could you please stop reminding me to do this via text? I don't want to block your number.

_______________________________________________________________________________
Guillaume Archambault
Excellent moving company! Movers were professional and timely. Took really good care of all of our furniture and our assets.

______________________________________________________________________________
Emanuel Yan
The gentlemen that helped me are seriously skilled superheroes. They moved us out SO FAST and did a spectacular job. I couldn't believe what I was watching! Those guys deserve a raise!!

_______________________________________________________________________________
Richard Snow
These guys were great. Ready as soon as they got here. Very professional. Very coherent of their surroundings, always had their masks on. It's a tough time right now to work around so many guidelines and they were champs! I forgot the names of the guys that helped us out, but please treat them with respect and kindness. I would hate to see them taken advantage of.

_________________________________________________________________________________