Are you planning a move to or from the beautiful coastal town of Cardiff-by-the-Sea, CA? Let Best Fit Movers be your first choice for both local and long-distance relocations. At Best Fit Movers, we specialize in providing reliable moving solutions to San Diego, Los Angeles and Orange County residents who are planning a move to or from Cardiff-by-the-Sea.
We stand out as Cardiff-by-the-Sea movers because we aim to solve problems caused by unreliable moving services and rental truck companies. Whether it's packing, equipment hauling, antique moving or more – our team is dedicated to delivering top-notch service that meets your unique needs.
The professionals at Best Fit Movers are committed to changing how people perceive relocation processes with every job we undertake. Our experienced team members are not only efficient but also courteous and well-mannered; providing just the right amount of manpower needed for safe and efficient moves.
In addition to being a leading mover in Cardiff-by-the-Sea area, we cater comprehensively for all kinds of relocation needs within Orange County region too. And with transparent pricing devoid of hidden charges, you can rest assured knowing exactly what you're getting into when engaging us. Leave the stress behind – let Best Fit Movers handle your next big move!
Comprehensive Moving Services by Best Fit Movers
If you're contemplating a move in the Cardiff-by-the-Sea area, look no further than Best Fit Movers. Our team has a wealth of experience to draw upon, providing an array of moving services that cater to all your requirements.
We pride ourselves on being more than just San Diego movers in Cardiff; we are partners who help make your transition as smooth and stress-free as possible. We've been serving this beach community located along Highway 101 for years and understand its unique characteristics like no other.
Residential Moving Services Tailored to Your Needs
Moving locally within or around nearby communities such as San Elijo can be daunting without the right support system. That's where our friendly moving experts come into play – providing personalized service tailored specifically towards your requirements whether it's packing up at multiple stops or delivering items safely to their new location.
The well-known surf spots might seem static but when residents here decide it's time for change they choose us because each residential move is treated with utmost care – ensuring every detail from start-to-finish aligns perfectly with client expectations.
Efficient and Affordable Local Moves
In addition to long-distance moves, local relocations form a significant part of our business operations too. If you're planning on shifting base within beautiful Cardiff-by-the-Sea, rest assured knowing that efficiency coupled with affordability forms core tenets behind how Best Fit Movers operates.
Packing Up: Your belongings aren't just things; they hold memories which need careful handling during the relocation process hence why professional packers take charge ensuring everything arrives intact at the destination point.
Loading & Unloading: No matter the size/weight involved – heavy furniture pieces get loaded/unloaded onto trucks using modern equipment thereby minimizing chances of any potential damage occurring while the transit period ensues;
Affordable Rates: Fair pricing models based upon specific customer needs mean there won't ever arise surprise costs later down the line after the contract gets signed off between both parties involved herein;
Highly Trained Professional Movers at Your Service
Transferring belongings from one place to another is not just a simple task; it necessitates know-how, exactness, and an awareness of the distinct requirements each move may bring. It's a process that requires expertise, precision, and an understanding of the unique needs each move presents.
The team at Best Fit Movers are not just Cardiff-by-the-Sea movers; they're professionals who have honed their skills over years of service in this industry. Whether you're moving locally or planning for a long-distance relocation, our local San Diego moving team can make your transition seamless and stress-free.
Expert Handling of Household Items During Relocation
Your household items aren't mere objects; they hold value both monetary and sentimental. That's why we ensure every item is treated with utmost care during packing, loading, transporting, unloading – all stages of the move. Here's how professional movers pack furniture safely, which reflects our approach too.
We use high-quality packing materials designed specifically for different types of belongings – be it delicate glassware or bulky furniture pieces like beds & wardrobes. This guide on HowStuffWorks explains how to load these onto a truck efficiently. Our experts also specialize in handling specialty items such as pianos or antiques ensuring safe transport without any damage.
Reliable Commercial Property Transfer With Minimal Downtime
If you own a business near the Pacific Ocean beach community located along Highway 101, including iconic spots like Cardiff Reef & well-known surf areas around nearby communities like San Elijo Lagoon Reserve Area, then commercial relocations might seem daunting considering potential downtime disrupting operations leading to loss of revenue.
This is where we come into play. We understand the importance of minimizing disruption and hence strive hard to provide efficient transfer services tailored according to the specific requirements of businesses.
No matter what kind of business you run, whether it's an office setup requiring careful transportation of computers and other electronics or a restaurant needing safe kitchen appliances, rest assured that you're in friendly and expert hands capable of delivering top-notch service, thus making us the preferred choice among San Diego Cardiff-by-the-Sea movers alike.
Flexible Storage Options from Best Fit Movers
Moving isn't just about transporting your belongings. Sometimes, it involves storing some items for a while. That's where we come in. At Best Fit Movers, we provide flexible storage solutions to meet the specific needs of our clients moving locally within Cardiff-by-the-Sea and nearby communities.
Short-term Storage Solutions During Transition Periods
Sometimes there's a gap between when you move out of your old home and into the new one or maybe you're downsizing or making multiple stops during your move along Highway 101 near Cardiff State Beach? In such cases, short-term storage can be an absolute lifesaver.
We offer secure temporary storage facilities designed specifically for these transition periods. Each client has unique requirements; hence we customize options based on how many items need to be stored and how long they'll stay with us.
Your possessions are safe with us – that's not something every San Diego movers Cardiff could guarantee. We take security seriously at all our locations, ensuring peace-of-mind knowing everything will remain intact until ready for delivery at their final destination.
Long-term Storage Facilities for Extra Belongings
If space is tight in your new place but parting ways with those extra belongings doesn't seem like an option yet – consider long-term storage as a solution. Maybe since South Coast Land Company acquired land around San Elijo Lagoon you've collected valuable antiques or have bulky sports equipment because well-known surf spots like Cardiff Reef are so close by?
No worries though – we've got you covered here too. Our professional team ensures each item going into the long-term facility gets packed carefully using high-quality materials before being placed securely inside climate-controlled units, which undergo regular inspections to maintain optimal conditions throughout the entire duration of the storage period, irrespective of whether it's a few months or several years down the line… Rest assured, no matter how much time passes, things still look as good as new upon retrieval thanks to the meticulous attention to detail paid towards maintaining the integrity of the property under our care, custody, and control – always a top priority for us indeed.
Beyond merely providing space, however, we strive to offer comprehensive services that encompass the inventory management aspect as well. This means that not only do we store your belongings away safely, but we also keep track of exactly which piece goes where in our large warehouses, thereby reducing the chances of misplacement over considerably. Besides, it gives our customers the convenience of access whenever needed without having to worry about losing anything amidst the vast collection of other stuff stacked together in the same vicinity, etcetera…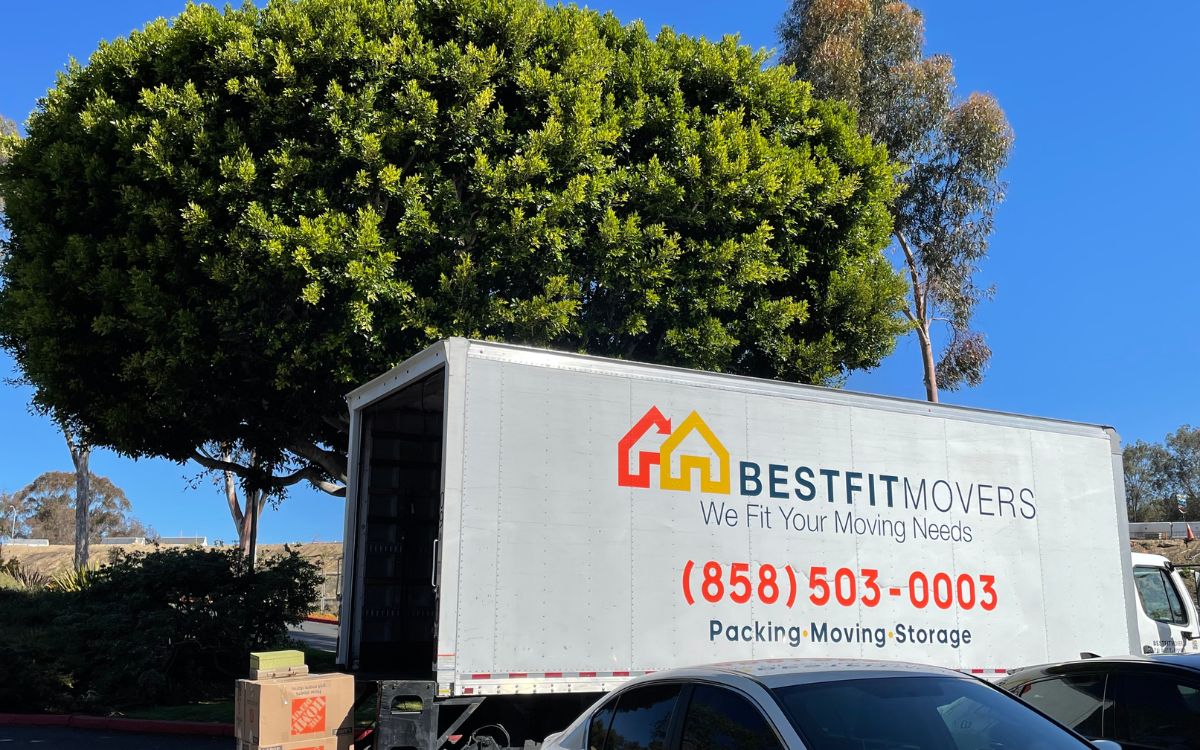 Get Your Free Instant Moving Quote Today.
Gather your moving estimates now with our easy-to-use instant quote system from Best Fit Movers' professional San Diego local movers. At Best Fit Movers, we've made this process simple and hassle-free with our instant quote system. Our professional San Diego local movers are ready to assist you.
In essence, getting a free moving quote is your first step towards a smooth and efficient relocation experience.
The Importance of Getting An Accurate Moving Estimate
An accurate moving estimate serves as the foundation for your entire moving plan. Obtaining a precise estimate provides an idea of the expenses associated with your move, thus avoiding any unexpected costs later on.
Apart from helping with budgeting, obtaining quotes also allows comparison between different Cardiff-by-the-Sea movers based on service quality versus price point.
Your Customized Free Instant Quotes: What They Include?
We understand every move is unique; hence our detailed quotes take into account factors such as property size, distance traveled, and special services requested like packing or storage solutions among others.
This transparency sets us apart from other companies who might have hidden charges lurking beneath surface figures – what you see upfront during the quotation stage is exactly the same thing you pay at the end of the day without exceptions whatsoever.
Contact Us For Your Personalized Quote Today.
Moving doesn't need to feel daunting when partnered with the right team of professionals to help guide you through the process and ensure a successful transition to your new location, whether it's nearby communities, surrounding areas, or farther away along the Pacific Ocean coast with well-known surf spots like the iconic Cardiff Kook Statue and Reef Highway 101. South Coast Land Company acquired in the past.
So why wait? Get in touch today via phone call or simply fill out our easy-to-use web form to request a personalized, absolutely obligation-free quotation now.
Experience the difference by choosing a truly reliable and trustworthy team of dedicated, friendly experts committed to delivering top-notch satisfaction with every single job we undertake, irrespective of scale or complexity – after all, they don't say "Best" in our name for nothing.
Your Cardiff-by-the-Sea Movers
Relocating can be intimidating, but Cardiff-by-the-Sea Movers make it a straightforward process with their assistance. From comprehensive moving services to flexible storage options, every aspect of your move is covered.
Our highly trained professionals handle everything with precision and care, ensuring a stress-free relocation experience. We cater to both residential and commercial moves, providing tailor-made solutions for each client's unique needs. No matter if you're relocating near or far, our squad has got it handled!
If you're ready to make your next move smooth and hassle-free, consider Best Fit Movers as your trusted partner in this transition. Visit our website today for more information on how we can assist with all aspects of your relocation process in the San Diego area! Let us show why we are the preferred choice when it comes to moving services.