Rancho Santa Fe is an affluent and close-knit southern California community set among the stunning backdrop of undulating mountains, a few miles from the Pacific ocean. Situated just half an hour's drive from both the city of San Diego and the community of Carlsbad, this glamorous enclave is an obvious choice for anyone considering moving to the San Diego area.
The community of Rancho Santa Fe offers the perfect blend of city and country life, offering the feeling of a small rural community with all the amenities of luxury living.
Here is absolutely everything you've ever wanted to know about Rancho Santa Fe. Whether you're thinking of picking up and moving to the area, or just curious to know about the lavish lifestyle Rancho Santa Fe residents lead, we've got the low down on this premier SoCal locality.
A History of Rancho Santa Fe
This small, semi-rural area has a surprisingly rich and detailed history behind it. Originally known as Rancho San Dieguito, Rancho Santa Fe has, at various times over the past 200 years, belonged to Spain, Mexico, and, finally, America.
In the mid-1800s, Juan Maria Osuna became the first official mayor of Rancho Santa Fe when he was given the area as part of a Mexican land grant.
In the early 1900s, the Santa Fe Railroad Company bought the area then known as Rancho San Dieguito to use as a eucalyptus tree plantation with the hopes of using the trees in the development of their railroad. When the trees proved unsuitable, the company decided instead to create a small community there instead.
Renowned architectural firm Requa and Jackson was commissioned to oversee the urban planning of the community, the work of which can still be seen throughout the town today.
Rancho Santa Fe Today
Today, Rancho Santa Fe is a small community of only 3000. It is also one of the wealthiest zip codes in all of America and known as an area filled with the super-rich and famous.
Howard Hughes, Arnold Schwarzenegger, Tiger Woods, Bill Murray, Richard Simmons, Phil Mickelson, Janet Jackson, Bill Gates, and Bing Crosby are some of the most moneyed residents, past and present.
Crosby helped to put The Ranch on the map with his annual Crosby Clambake golf tournament which featured a mix of celebrity and amateur golfers and first took place at Rancho Stana Fe Country Club in 1937.
Indeed, this star-studded town seems to encourage a healthy and active lifestyle, with many residents pursuing equestrian interests, taking advantage of the many adjacent hiking trails and the proximity to the ocean.
Rancho Santa Fe Homes
Houses in Rancho Santa Fe tend toward the opulent and elegant. The majority of homes are built in the Spanish-Mediterranean style in a nod to the area's rich history.
Most estates are large, meticulously planned, and oozing with grandiosity fitting of their sumptuous surroundings. Gated communities are common, with the most high end being The Bridges, The Farms, Fairbanks Ranch, and Cielo.
These almost agricultural names speak to the open, outdoor, and rustic charm the community has to offer, all encompassed in an air of exclusivity.
House prices vary greatly in the area. The median is around $1.75 million, however, less than 10% of homes sell for under the $1 million mark. Certain homes have commanded figures upwards of $80 million. If you're moving to The Ranch, prepare to pay top dollar – but you can be assured it's worth every cent.
Things to Do in Rancho Santa Fe
In this idyllic enclave, there's no shortage of activities, whether you're a keen sportsman or a cultural connoisseur. There's something for everyone to enjoy at The Ranch.
Get Active
There are tons of ways to while away the hours in Rancho Santa Fe. Taking advantage of the year-round sunshine and enjoying the great outdoors certainly is one of the most enjoyable.
Ride
The Ranch has a strong history of equestrianism, and there's more than one place horse-lovers can choose from to take a ride. The Osuna Ranch, The Rancho Riding School, The Kalimar Farms Equestrian School, Rancho Cielo Equestrian Facility, and Valenti Equestrian Club are only a select few of the dozens of riding schools you'll find here.
Golf
If you thought Rancho Santa Fe had an abundance of equestrian facilities, wait until you hear about its golf clubs. Aside from the famed Rancho Santa Fe Country Club, where the Crosby Clambake first began, there are many, many, more to choose from. Most every gated community in and around the ranch boasts its own golf facilities, some of which are world-renowned.
Hike
If you're more of a get-up and go type of person, there's plenty here for you, too. The community is surrounded by some of the most beautiful trailheads and hikes Southern California has to offer. San Dieguito River Park, The Black Mountain Open Space Park, the La Orilla Trailhead, and the Del Dios Gorge are just a small fraction of the amazing walks dotted across the beautiful countryside surrounding the town.
Relax
After a long day of exercise and outdoor activity, those looking to relax and unwind won't find any shortage of ways to entertain themselves, either. Those looking to take in some culture, pamper themselves, or exercise their credit cards for a change will be in luck.
Shop
In the cute and compact downtown commercial district, you'll find everything from sweet little boutiques to upmarket stores selling the latest designer trends. Check out Plaza de Acacias and Del Rayo Village Shopping Center. Here you'll find cozy cafés, exclusive art galleries, and clothing stores galore.
Spa
There are a plethora of places to pamper yourself in Rancho Santa Fe, but one of the most famous, and fabulous places to do so is The Spa at The Inn at Rancho Santa Fe. Set inside a five-star resort, this spa has everything you need for maximum relaxation. Massages, facials, and yoga are all on the menu here.
Graze
A favorite feature among locals is the Rancho Santa Fe Farmers Market. Each Sunday between 9:30 and 2, stalls spring up along San Dieguito Road, forming the backdrop for a cacophony of scents, sounds, and the most amazing tastes. If you're looking for fresh, healthy, delicious produce, this is definitely a place you won't want to miss.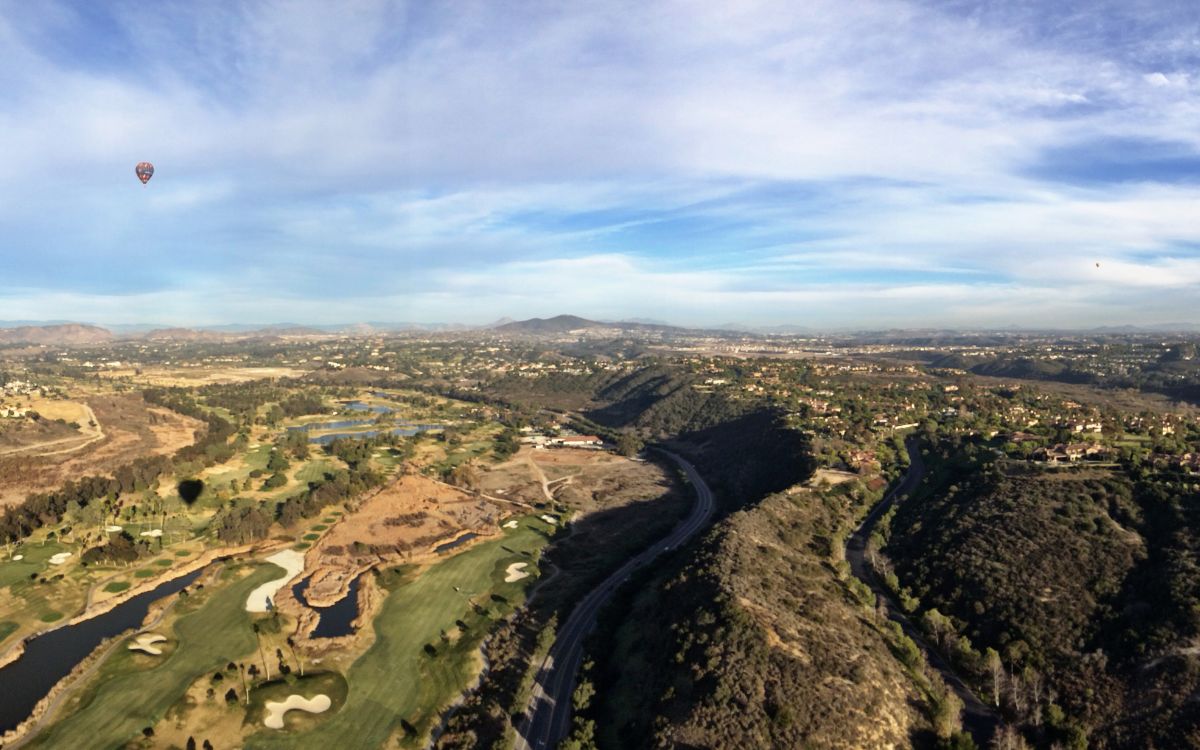 Where to Eat in The Ranch
In an enclave of the rich and famous, top quality eateries are pretty much a given. Below, we've listed some of the very best places to grab a bite.
Mille Fleurs
Mille Fleurs tends to top most lists of places to eat in Rancho Santa Fe, and there's a reason for this. A stylishly simple decor belies a menu that is accomplished, upscale, and decidedly French. The beautiful patio filled with floral creations alone is worth a visit. Perfect for a chic breakfast, lunch, or dinner.
Thyme In The Ranch
If you're in search of something a little bit more casual, then Thyme In The Ranch is the place you want to be. Known for attracting long lines of hungry customers, Thyme In The Ranch serves up amazing pastries, quiches, salads, and sandwiches using only the freshest locally sourced produce.
Where to Grab a Drink
For a wider selection of your more traditional bars, breweries, and cocktail lounges, you may have to travel a little further afield. But that's doesn't mean there's not plenty of places for a great night out in The Ranch.
Market Restaurant and Bar
Moody lighting, sophisticated plates, and drinks to die for are all features of Market Restaurant and Bar. Chef and Proprietor Carl Schroeder has managed to craft a menu and an atmosphere that are hard to describe and impossible to emulate. Its sushi bar is the perfect place to grab a light bite alongside a decadent drink.
Nick & G's Restaurant
Comprising a full restaurant and adjoining bar, Nick and G's is a one-stop-shop for a great night out. The food is fresh, carefully crafted, and delicious. The bar, aptly named the Blu Social Lounge, is a buzzy spot with highly skilled bartenders and an impressively long cocktail menu.
An Amazing Place to Live
The community of Rancho Santa Fe is a special one for many reasons. The million-dollar homes, the breathtaking countryside, and the close proximity to so many other wonderful communities make it one of the most desirable places to live in all of San Diego County.
If you're considering a move, we at Best Fit Movers are trusted, tested, and dedicated to delivering only the highest quality service. Get in touch today and let us help to make your move a breeze.