Thinking about moving to the San Diego area? If you want to experience the sunny beauty of America's Finest City while avoiding the hustle and bustle of the busiest areas, you're in luck. There are plenty of opportunities to live a quieter life in the suburbs.
Some people say it's like having the best of both worlds. You're living on the edge of an urban powerhouse, that brings unmatched excitement in terms of business activity and community events. Even better, you're able to enjoy it at your leisure and retreat to your serene spot just outside the center of the action. It's a great life, especially when you choose one of the amazing locations we're discussing today.
Here at Best Fit Movers, we're fortunate to work and live in this amazing region. We know all about the area's top locations, and we're here to spread the good vibes. History, affluence, privacy, good surf, family fun – San Diego neighborhoods have it all.
Top Suburbs in San Diego: Neighborhoods and Communities That Locals Love
What type of area are you interested in? A secluded haven of peace and quiet? A suburb that buzzes with fun activities every week? When it comes to San Diego neighborhoods, there's truly a place for everyone.
Some of the top suburbs in San Diego feel like the ideal quiet neighborhood to raise a family. Others offer a preview of the excitement you'll find in central San Diego. Which is right for you?
Remember that our moving company is highly familiar with this area. Want to move to a new town nearby? Traveling from far out? Think you may relocate multiple times in a short span? Call us for help – we can help you make any move more enjoyable. To start, we'll help you find the right location to call home.
Here are some of the best places to live near San Diego, California.
Carlsbad: Cozy Coastal Charm and Fun Family Activities
Carlsbad is located north of San Diego with a population of approximately 115,000. There's something for everyone in this bustling beach town that is popular with people of all ages.
Families and individuals alike can always find somewhere to go. Legoland California, Seaworld, and San Diego Safari Park are all conveniently located nearby. They're fine targets for day trips with memories that will last a lifetime.
Carlsbad also has a great arts and culture scene, with museums like:
Museum of Making Music
Miniature Engineering Craftsmanship Museum
Antique Gas & Steam Engine Museum
These locations and others will leave visitors feeling inspired. Art galleries, theaters, and concerts located throughout the area are other great ways to get your creative juices flowing.
For any golfers out there, Carlsbad is a perfect location to hit the green. There are spots like the Park Hyatt Aviara Golf Club designed by the legendary Arnold Palmer. There's also the Omni La Costa Golf Course, previously conquered by iconic players like Tiger Woods and Phil Mickelson. These iconic courses are sure to satisfy beginners and pros alike.
Outside of fun things to do and see, Carlsbad is known as one of the wealthiest communities in the country. While that means the cost of living is higher, the thriving industries in the area allow for plenty of opportunities to meet the elevated living cost.
Encinitas: An Enriching Retreat of Youthful Excitement
Encinitas is also located north of San Diego, between Solana Beach and Carlsbad. Known as a popular spot for families and young professionals, the beautiful beachfront views and rich cultural life make the area make this one of the best San Diego neighborhoods for young adults. With a sizeable population of over 61,000, this area is large and growing.
Encinitas beaches are a staple in the community and in Southern California surf culture. Moonlight Beach and Swami's are some of the most well-known beach areas in all of San Diego.
Moonlight Beach is a family-oriented beach with lots of recreational activities. It's a great place to unwind, recharge, and destress. Swami's, made famous by The Beach Boys, is a great area to surf the waves or wait your turn with a beautiful view of the ocean.
The San Diego Botanical Garden has 29 themed gardens stretched across 37 glorious acres. With trails, children's gardens, conservatories, and more, everyone from hikers to casual nature enjoyers can find joy in this beautiful oasis.
Historic buildings are home to boutiques and small businesses that line the coastal shopping district. Shoppers can enjoy food from sidewalk cafes or upscale restaurants while they walk around the area to make their purchases.
While the cost of living is not the cheapest in the San Diego area, the high-quality feel of the city and its schools, job opportunities, and stunning weather make the cost worth it.
Oceanside: Beautiful Art, Great Eats, Incredible Atmosphere
With a population of over 172,000, the largest on this list, Oceanside is the perfect location for someone who wants to experience suburb living with a touch of city life. Known for its downtown area, food scene, and artistic spirit, there's never a shortage of things to do and experience.
Oceanside has multiple museums for patrons to explore. The California Surf Museum is a staple for those interested in surfing and its culture. With exhibits about famous surfing legends, surfboards, the tie between pop culture and surfing, and more, it's a fascinating stop for a day trip.
The Oceanside Museum of Art offers a look into the contemporary art scene in the area. With over 9,000 square feet of gallery space, the rotating exhibits on display can feature paintings, sculptures, light installations, and more. Additionally, the museum also has multiple workshops and events throughout the year that fine art enthusiasts and supporters won't want to miss.
Oceanside's culinary scene has made the city well-known for its food offerings. New dining venues have given way to food districts split up by neighborhoods. This allows for unique experiences everywhere that you turn. Fun restaurants, beer gardens, taco shops, coffee houses, gastropubs, and sushi places are now located all around.
Tourism has just recently become a larger part of Oceanside's economy. But the city has always been known as one of California's military cities thanks to its strong connection to the Marines. Oceanside is one of the area's cheaper options for coastal living. But it's still one of the top suburbs in San Diego – this means the cost of living is 36% higher than the national average.
Solana Beach: Small Town Vibes, Small Business Pride
Solana Beach, with a population of over 12,000, is known for being a walkable community without a huge amount of crowds and commotion. The suburb has consistently been ranked as one of the best places to live near San Diego thanks to its friendliness and small-town feel.
An interesting aspect of Solana Beach is that it splits into East and West neighborhoods, thanks to the I-5, which runs right through the middle of the city. While the western part of Solana Beach focuses on beaches and coastlines, the eastern part of the city is more residential and focused on golf. The Loma Santa Fe Executive Golf Course and Loma Santa Fe Country Club are must-visits for golfers in the area.
A popular hiking destination in Solana Beach is Annie's Canyon Trail. The trail is generally considered an easy route and only takes about an hour to complete. It's a quick way to see some beautiful scenery in the area. Fletcher Cove Park, another destination in Solana Beach, is also known as the "Pillbox" locally due to its gunnery installations during World War II. It's a popular place to swim year-round and is famous for sunsets.
The Cedros Avenue Design District has over 85 merchants and is a popular shopping area filled with art and sound. The district is filled with independent small businesses and boutiques, including the Belly Up, a famous tavern that dishes out tunes almost every day of the week.
The cost of living in Solana Beach is at a slightly higher price point than other surrounding suburbs. The tight-knit nature of the community and high-quality education in the area are highly sought after. Career advancement opportunities are available as well, so Solana Beach is a good fit for young professionals.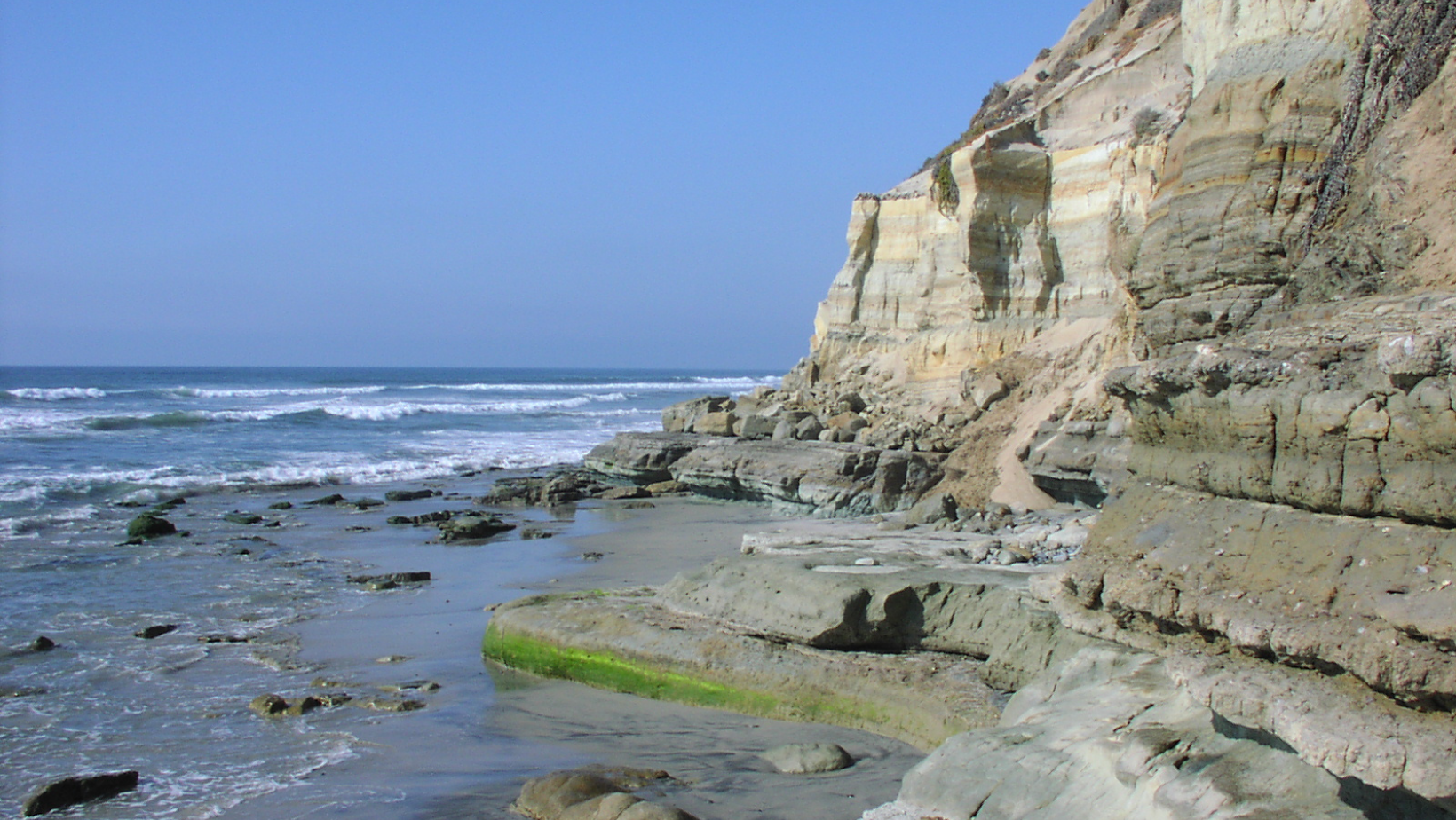 Del Mar: Close-Knit, Close to the Sea, Close to Residents' Hearts
With a population of just under 4,000, cozy Del Mar is the smallest on our list. This quaint seaside area has glamorous Hollywood ties that date back to the days of silent films.
The Del Mar Thoroughbred Club, fittingly described as where "the turf meets the surf," is one of the biggest venues for horse racing in the United States. The racing season is only between July and September, but the races leave their impact during the summer months every year.
While parents watch horse races at the racetrack, kids can enjoy a variety of free rides, games, and activities. With the additional free concerts on the Seaside Stage, the Del Mar Thoroughbred Club is a fun place to spend a summer day in the area.
Also known as the River Mouth, Del Mar's Dog Beach is one of the rare ocean retreats that welcomes your pooch. Not all beaches in California are dog friendly, so if you have a furry friend of your own, Dog Beach is perfect for you.
Thanks to Del Mar's unique geography and favorable weather, it's one of the few places in the world where a hot air balloon can fly both at sunrise and at sunset. It's a sight you don't want to miss.
With all of the great family-friendly experiences and locations in the area, Del Mar is a great area for families to live. The cost of living is expensive, but the area has a lot to offer.
Coronado: Island Energy and Historical Significance
Coronado has a population of about 20,000 and is described as a small beach community with an island feel. Similar to Oceanside, Coronado is popular with current military personnel and ex-military personnel due to the city's connection with the Navy.
The Hotel Del Coronado is a gem with a lot of history. Over the years, the hotel has opened its door to many celebrities, presidents, and royalty. There were multiple movies filmed at the Hotel Del Coronado, including Marilyn Monroe's famous movie Some Like It Hot. L. Frank Baum, the writer and creator of The Wizard of Oz, did a lot of his writing there as well. If you're a fan of Old Hollywood, it's a location worth checking out.
For those who enjoy exploring, taking a tour of Coronado on a weekend or a day off would be a great way to get your fix. There are many ways to tour Coronado, whether you take a ferry, electric bicycle, electric scooter, Segway, or simply walk around the island.
The beaches in Coronado are beautiful, and Coronado Beach is no exception. It runs for two miles and is famous for its stunning sunsets. With gold mica in the sand and bright blue bioluminescence in the water at night, Coronado Beach is a worthwhile trip to make for families and individuals alike.
Like many other cities and suburbs in California, the cost of living in Coronado is high. The mix of urban and suburban is in high demand, and the prices reflect that.
La Jolla: A Jewel Glimmering Like the San Diego Seas
La Jolla, the last city on our list, is known as an upscale area. Its nickname, "the jewel" of San Diego, is definitely fitting when you look around at the area's natural beauty. With stunning views and plenty of high-end activities to go around, La Jolla mixes luxury with leisure. It's no wonder that 37,000 people call it home, with more moving there every day.
Education is important in the La Jolla area. Some of the best public schools in the state of California are located there. Despite its name suggesting otherwise, the University of California, San Diego is also located in La Jolla. For families and young individuals who value quality schooling, La Jolla is a great place to consider.
The Children's Pool in La Jolla may seem like a swimming spot, but it's actually a fantastic place to see harbor seals up close. Named the "Children's Pool" due to a seawall that was built to protect kids from incoming waves, the area was taken over by a seal colony after the area slowly filled up with sand over the years.
People aren't allowed to swim there anymore, but walking along the sea wall is a unique experience that can't be replicated anywhere else. However, La Jolla Cove, which is close to the Children's Pool, is a great location to go swimming or snorkeling. The La Jolla Underwater Park is as well.
Due to the upscale nature of La Jolla, the cost of living is higher. However, there is a high employment rate and a high median salary as well. The costs are worth the reward.
We'll Move You to the Top Suburbs in San Diego – Call Best Fit Movers
With a variety of options available for suburban living, the possibilities are endless. Whether you want to live in an area like Oceanside that gives you the best of both worlds or you want to live in a small and secluded area like Del Mar, the San Diego area has it all. Just like the warm sunshine, fortune shines down on those who are blessed to call these locations home.
If you're looking to make a move to one of these San Diego neighborhoods or anywhere else around, we're prepared to support you along your moving journey. Here at Best Fit Movers, our licensed and insured team has become a local favorite with near-perfect reviews. We're rated an A+ with the BBB, and a member of the local San Diego chamber.
We can offer you:
Loading and unloading
Professional moving supplies
Transport in clean trucks
Relocating to family-friendly communities in San Diego or exciting hotspots for young people is easy when you call us. Our team knows how to make moving the exciting experience it should be. After all, if you're coming to one of these San Diego neighborhoods, you've got a lot to look forward to. With us, you'll look forward to the trip there as much as the destination.
Ready to make the move? Don't hesitate – contact us today for a free moving quote!