There's a lot to consider when you're moving house. How is everything you have going to get there, and what are you going to take? It's a lot to think about. But have you considered when you're going to move?
Every season has its pros and cons for moving. Summer is the most popular for convenience. Winter is good for people who enjoy the cold weather or are moving south. Spring is a time for new beginnings. So, what does autumn have to offer?
Today, Best Fit Movers is excited to share why fall is a great time to move to San Diego. We're going to explore all the reasons you should plan your move for this fall and what specifically San Diego has to offer when the leaves turn.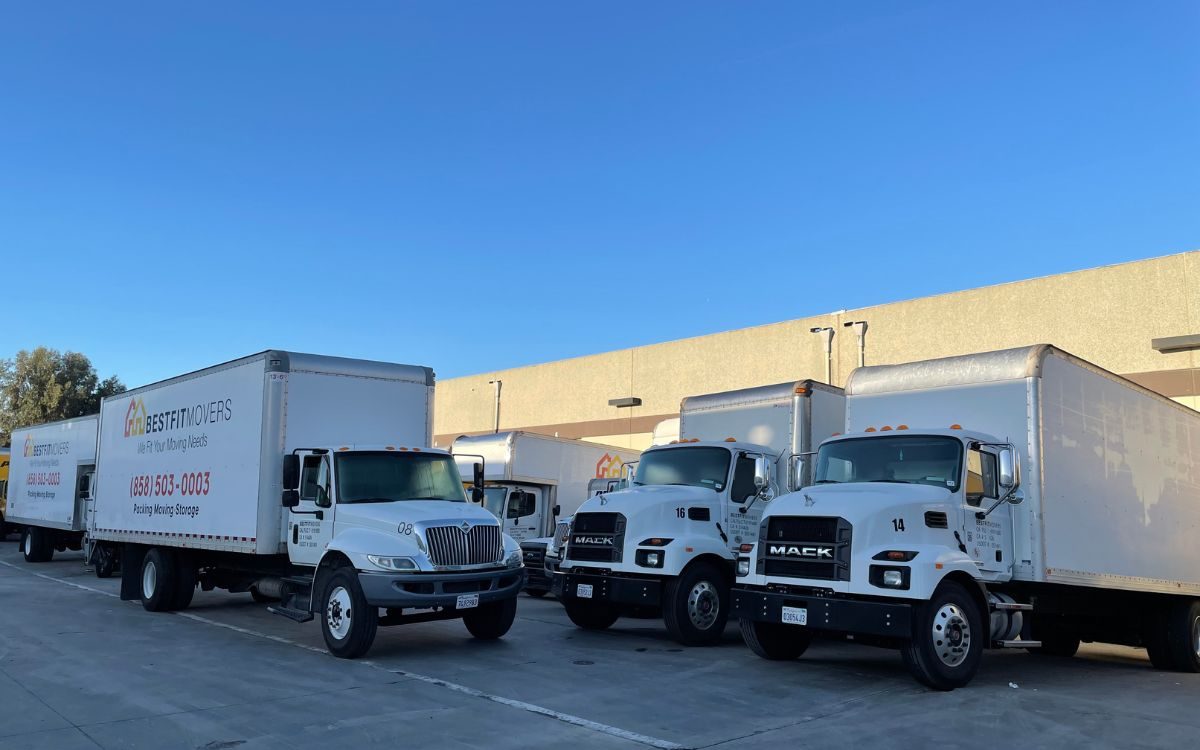 Why Do People Move in the Summer?
Before we dig into why fall is best, let's look at why so many people move in the summer to begin with. The answer is easy: it's convenient.
Let's first consider how the kids are out of school, and people's work schedules are usually opening up as the summer rolls on. This makes it easier to knock the time out of your schedule to make the move. However, you're not the only one. Summer's biggest drawback is that you have to compete with everyone else taking advantage of this time. That means higher-priced homes and higher-priced movers with tight schedules.
Plus, the summer is an outdoor season. People won't like staying cooped up while the weather is nice. This might be why so many people take to the road for a new house.
Naturally, this has built the ill-conceived notion that summer is the ideal time to move. We're here to tell you why fall is where it's at.
There are More Move Time Options
Here's a little secret for when you're looking for the best time to move. The peak moving season is in the summer months between May and early September, which means you'll have more flexibility in the fall. Many movers will have relatively free schedules, giving you the freedom to choose when you move into your new San Diego home.
Movers will be more willing to work with you on what day of the week you would like to move. This can be hard to get any other time of the year because of the high demand. Fall makes it a lot easier for everyone.
Booking move times during the busy summer months can lead to frustration and headache. With the schedule so full, moving appointments can run over. This will lead to longer wait times, which can complicate your already busy day if you have specific arrangements to meet.
So, why move on someone else's schedule when you could choose the time best for you? Moving in the fall is both easier and potentially faster.
The Weather is Fairer
Besides the mover flexibility, the fall is a better time of year to move if you enjoy mild climates. No one enjoys working in the sweltering heat of the summer, especially if your new home's AC isn't ready. San Diego enjoys a mild fall that's neither too hot nor too cold. Just as September begins, the temperature begins to drop to a comfortable range of 74.7 to 54.
However, the temperature isn't the only reason you should move in the Fall. San Diego experiences a somewhat unique and unpleasant weather phenomenon in the summer months of May and June. These are known as "May Gray" and "June Gloom" by the locals. This is because the weather in San Diego during these months is dominated by overcast, making it a dreary time of year to welcome yourself into your new home.
This is not even to mention trying to move during the spring or winter. During those times, the weather in San Diego can be uncomfortably cold and wet. You're damp, tracking mud into the house, and you have to stay warm in your new home. To be honest, it's uncomfortable. Worse yet, all the damp risks damage your packages as you move them into your home.
So, why not choose to move in the fall for lovely weather?
A New Home for the Holidays
Everyone likes to invite friends and family to enjoy their new home once they've properly moved in. Moving in the fall gives you the chance to finish settling into your new home before the major holidays like Thanksgiving and Christmas. That also makes it the perfect time to invite everyone over to enjoy your new home with you.
Imagine it: you've moved into your new home in early October. Everything is in place, and your home is just starting to feel lived in when Halloween comes. You can hold a fun Halloween-themed housewarming party. Then it's Thanksgiving, and "come see my new place" is the perfect excuse to get your friends and family to join you at your table.
Then, of course, the winter holidays are just around the corner. It's getting chilly outside but not too chilly in San Diego, and your home still has that new feel blended with the coziness of the holidays. It's the best. So, don't miss out on the best moving season for that lovely holiday atmosphere.
Not one for atmosphere? Well, we have a practical reason for moving in just before the Holidays. It's the deal you can get on movers.
Many moving companies might offer you a holiday special when you move in during the fall months. That's more money in your pocket to save for the holidays. Give yourself an early present with a new home and savings this holiday season.
Less Competition from College Students
There are over 20 universities and colleges in San Diego. That means there are over 20 universities and colleges of students looking to be moved in and ready for the fall semester. So, you're not only competing with the summer move rush of regular people. There are also college students. Many of them will be employing movers to get into their apartments and dorms, particularly in August.
Plus, not all of these college students will be moving into dorms this August. They will be renting homes and apartments as well. It would be better to wait for this demographic to finish what they're moving rather than compete with thousands for the handful of available movers.
Waiting to move in during the fall, particularly in October, will give you more time and flexibility when you hire a moving service.
More Time to Find That Perfect Place
Not only are you avoiding the college students, but the regular rush of people moving into new homes will also have subsided in the fall. That's fewer people buying homes and employing movers. But there are still homes to buy, apartments to lease, and movers ready to get you into your new place. After all, someone has to buy them. These things don't just go away in the off-season.
Moving in the fall will give you more options for apartment floor plans and homes to choose from.
This will give you more time to pick and choose not just when you move but where you ultimately move to. Don't waste your time with apartments that have piles of applications or homes with competing offers. Choosing a new place to ultimately live is stressful enough. Do it at a time that's convenient for you.
Holiday Sales and Deals
Remember how we just discussed that there are always homes to buy but fewer people to buy them in the fall? That also makes fall the perfect time to get a deal on a home. Housing prices tend to fluctuate when the seasons change. Fall is the best time for you to get a deal on your dream apartment or house.
But your savings don't end at home.
Take a moment to consider the sales that happen during the fall months. Furnishing your home with all your favorite comforts is so much cheaper when you take advantage of the holiday deals. Plus, don't forget to consider sales you can get at any of San Diego's many antique and thrift stores. After all, who doesn't like to shop for their new home?
Furthermore, remember how we mentioned that movers are more readily available in the off-season? Well, there are deals to be had there too. Many movers offer holiday specials for those looking to move during the fall and winter months to entice more customers.
So, if you're looking to save money when you move this year, consider moving in the fall. You'll save money on furniture, knick-knacks, and movers, all with the holidays just around the corner.
Fun and Festivities
Whether you're moving from across the country or the next town over, it can be scary to settle into a new place. For that, there's no better fix than some fun. Taking part in the autumn festivities in San Diego is the perfect way to get you acclimated to your new surroundings. There's mild weather, open beaches, and beautiful autumn sunsets.
There's no end to the autumn fun in San Diego.
If you're one for festivals and parades, you're in luck. San Diego is home to a plethora of festivals when the weather starts to cool. There's something for everyone. September sees the San Diego blues festivals. Do you like art? The San Diego Festival of the Arts is celebrating its 35th annual anniversary this year. There's a festival for everyone and everything.
Are you not into crowds? Want to enjoy nature's autumn splendor? Take a hike on San Diego's beautiful high-altitude hiking trails. The fresh air and beautiful scenery are sure to make you feel at home. San Diego isn't the first place people consider when they want to see the leaves change, but the high hills around the city are full of color when October rolls around.
Regardless of what you do when you move in the fall, get out there and enjoy San Diego. No one wants to be stuck in their brand-new house. You need to be able to get out and immerse yourself in the culture of your new environment.
There's no better place than fall in San Diego.
Conclusion
At the end of the day, the bottom line is that fall is the best possible time for you to move to San Diego. The weather is mild, the competition is low, the process is easy, and the people are friendly. Why would you choose another season? The summer is busy, the winter is cold, and the spring is wet. Autumn is the best time for a new home.
So, when you're moving to San Diego this fall, go with a moving company that'll get you there. Best Fit Movers offers a comprehensive, full-service moving experience. Rely on us with your move and more. We offer extra services like packing and storage for local and long-distance moving.

What's more, we've been moving San Diego residents for years. We know the community because we are the community. It is our home, and we're excited to make it your home too.
Our friendly movers can tell you everything you need to know. Whether you want to know where to grab a drink or need directions to the San Diego Zoo, we can point you in the right direction while we help you settle in.
Give us a call today for a free moving quote, and ensure your next move is your best by choosing Best Fit Movers.