We know that San Diego is a great place to live, but do you know why fall is a great time to move to San Diego?
Here at Best Fit Movers, we're fortunate enough to work for this area and the amazing people who live here. While the iconic California paradise is known for its sunny days, the world keeps turning and the seasons stretch beyond summer and spring.
As fall approaches, the area gains a unique level of appeal that adds to its allure. This season isn't just great when you're already in the location, but it's also an ideal time to make your relocation. Along with the typical questions about where to move, what to bring, and who will help you, you may want to add another question to the list – when is the best time to move to San Diego?
Every season has its pros and cons for moving. Summer is the most popular for convenience. Winter is good for people who enjoy the cold weather or are moving south. Spring is a time for new beginnings. So, what does autumn have to offer?
Today, Best Fit Movers is excited to share why fall is a great time to move to San Diego. We're going to explore all the reasons you should plan your move for this fall and what specifically San Diego has to offer when the leaves turn.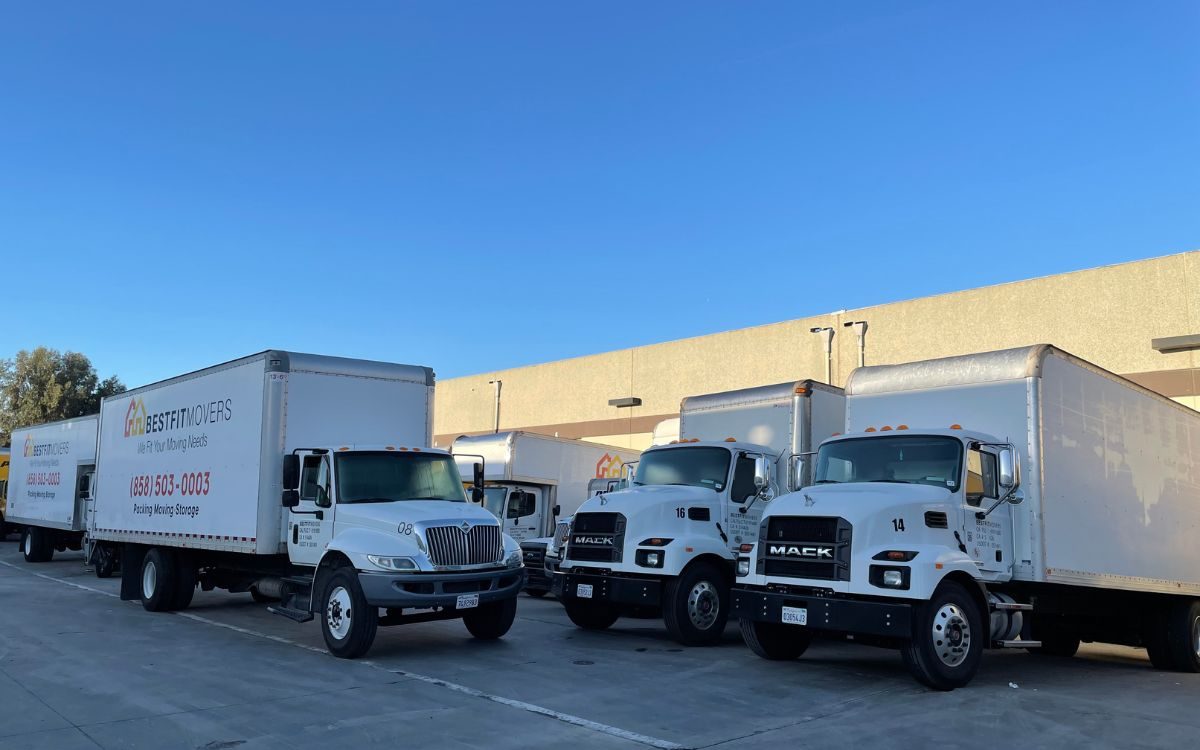 Why Do People Move in the Summer?
Before we dig into why fall is best, let's look at why so many people move in the summer to begin with. The answer is easy: it's convenient.
Let's first consider how the kids are out of school, and people's work schedules are usually opening up as the summer rolls on. This makes it easier to knock the time out of your schedule to make the move. So what's the problem? Other people think the same way.
Summer's biggest drawback is that you have to compete with everyone else taking advantage of this time. That means higher-priced homes and higher-priced movers with tight schedules. Plus, the summer is an outdoor season. People won't like staying cooped up while the weather is nice. This might be why so many people take to the road for a new house.
Naturally, this has built the ill-conceived notion that summer is the ideal time to move. While we're happy to move you during this season (if our schedule is open), there are some options that may suit you better. Here's why you should consider moving to San Diego in the fall.
Why People Move in Fall: More Options and Convenience
Here's a little secret for when you're looking for the best time to move. The peak moving season is in the summer months between May and early September, which means you'll have more flexibility in the fall. Many movers will have relatively free schedules, giving you the freedom to choose when you move into your new San Diego home.
Movers will be more willing to work with you on what day of the week you would like to move. This can be hard to get any other time of the year because of the high demand. Fall makes it a lot easier for everyone. This is true no matter what type of move you're making. We know why people move in the fall, because we've supported many different types of relocation journeys, including:
Residential moves for individuals and families seeking a new home
Commercial moves for employees and companies moving to San Diego
Short-term moves for those who relocate within southern California
Long-distance moves that see people traveling hours to reach this great area
No matter why you're moving or where you're coming from, moving to San Diego in the fall can make the process much easier. Booking move times during the busy summer months can lead to frustration and headache. With the schedule so full, moving appointments can run over. This will lead to longer wait times, which can complicate your already busy day if you have specific arrangements to meet.
But in the fall? It's more likely that you'll have your choice of different moving times, so you can plan ahead with ease or schedule short-notice moves if the need arises.
Move Quickly and Easily on Your Schedule
Why move on someone else's schedule when you could choose the time best for you? Moving in the fall is both easier and potentially faster. Let's say you're looking to plan your move well in advance, so you can ensure that everything is protected properly. It's much easier to secure a spot in fall because you'll have less competition from people who are also planning ahead.
Maybe you're moving on short notice, because you've just realized you need a new residence and can't wait. Or you could have gotten word from a company that says they want you to move for work. If the call comes in fall, you're much more likely to beat the crowds and enjoy the chance to expedite your move.
The Fall Weather is Fairer – Especially for Moving
Besides the mover flexibility, the fall is a better time of year to move if you enjoy mild climates. No one enjoys working in the sweltering heat of the summer, especially if your new home's AC isn't ready. San Diego enjoys a mild fall that's neither too hot nor too cold. Just as September begins, the temperature begins to drop to a comfortable range of 50-75 degrees.
You always want to move on a cooler and comfortable day if possible, since you'll be outdoors and on the go. But you'll never have to sweat the moving process yourself because we provide packing, loading, and more. You'll be cool with the experience in more ways than one.
However, the temperature isn't the only benefit of moving to San Diego in the fall. San Diego experiences a somewhat unique and unpleasant weather phenomenon in the summer months of May and June. These are known as "May Gray" and "June Gloom" by the locals. This is because the weather in San Diego during these months is dominated by overcast, making it a dreary time of year to welcome yourself into your new home.
Forget trying to move during the spring or winter. During those times, the weather in San Diego can be uncomfortably cold and wet. You're damp and tracking mud into the house, plus you have to stay warm in your new home. To be honest, it's uncomfortable. Worse yet, all the damp risks could damage your packages as they're being moved into your new home.
So, why not choose to move in the fall for lovely weather?
Enjoy A New Home for the Holidays
What's one of the most fun things to do after you move into a new location? How about inviting over your family and friends to celebrate?
Moving in the fall gives you the chance to finish settling into your new home before the major holidays like Thanksgiving and Christmas. That also makes it the perfect time to invite everyone over to enjoy your new home with you.
Imagine it: you've moved into your new home in early October. Everything is in place, and your home is just starting to feel lived in when Halloween comes. You can hold a fun Halloween-themed housewarming party. Then it's Thanksgiving, and "come see my new place" is the perfect excuse to get your friends and family to join you at your table.
Then, of course, the winter holidays are just around the corner. It's getting chilly outside but not too chilly in San Diego, and your home still has that new feel blended with the coziness of the holidays. Finally, you pop open a bottle of champagne to ring in the new year – your first full year living in your lovely new San Diego location.
These types of feelings are the best, so don't miss out on the best moving season for that lovely holiday atmosphere. Not one for atmosphere? Well, we have a practical reason for moving in just before the holidays. It's the deal you can get on movers.
Many moving companies might offer you a holiday special when you move in during the fall months. That's more money in your pocket to save for the holidays. Give yourself an early present with a new home and savings this holiday season.
Less Competition from College Students
There are over 20 universities and colleges in San Diego. That means there are over 20 universities and colleges of students looking to be moved in and ready for the fall semester. That's in addition to the influx of non-students who want to move in summer for the reasons we mentioned previously. It's a long list to find yourself on, and you may end up running behind schedule if you wait too long.
It would be better to wait for this demographic to finish what they're moving rather than compete with thousands for the handful of available movers. Waiting to move in during the fall, particularly in October, will give you more time and flexibility when you hire a moving service.
You know why fall is a great time to move to San Diego. Whether you're a college student, a family seeking a new home, or a professional moving for work, we can help you relocate. Contact our team of licensed, insured, experienced relocation experts today for a free no-obligation moving quote!
More Time to Find That Perfect Place
Not only are you avoiding the college students, but the regular rush of people moving into new homes will also have subsided in the fall. That's fewer people buying homes and employing movers. But there are still homes to buy, apartments to lease, and movers ready to get you into your new place. After all, someone has to buy them. These things don't just go away in the off-season.
Moving in the fall will give you more options for apartment floor plans and homes to choose from. This allows you to pick a location that is both the perfect size and in the ideal location.
This shows that the questions of "When is the best time to move to San Diego," and "Where is the best place to live in San Diego" can intersect. Waiting until the right time and moving to San Diego in the fall can leave you with a selection of better options. Don't waste your time with apartments that have piles of applications or homes with competing offers. Choosing a new place to ultimately live is stressful enough. Do it at a time that's convenient for you.
Holiday Sales and Deals Can Save You Money
Remember how we just discussed that there are always homes to buy but fewer people to buy them in the fall? That also makes fall the perfect time to get a deal on a home. Housing prices tend to fluctuate when the seasons change. Fall is the best time for you to get a deal on your dream apartment or house.
But your savings don't end at home.
Take a moment to consider the sales that happen during the fall months. Furnishing your home with all your favorite comforts is so much cheaper when you take advantage of the holiday deals. Plus, don't forget to consider sales you can get at any of San Diego's many antique and thrift stores. After all, who doesn't like to shop for their new home?
Furthermore, remember how we mentioned that movers are more readily available in the off-season? Well, there are deals to be had there too. Many movers offer holiday specials for those looking to move during the fall and winter months to entice more customers.
So, if you're looking to save money when you move this year, consider moving to San Diego in the fall. You'll save money on furniture, knick-knacks, and movers, all with the holidays just around the corner.
Fun and Festivities to Help You Settle In
Whether you're moving from across the country or the next town over, it can be scary to settle into a new place. For that, there's no better fix than some fun activities. Taking part in the autumn festivities in San Diego is the perfect way to get you acclimated to your new surroundings. There's mild weather, open beaches, and beautiful seasonal sunsets. There's no end to the autumn fun in San Diego.
If you're one for festivals and parades, you're in luck. San Diego is home to a plethora of festivals when the weather starts to cool. There's something for everyone. September sees the San Diego Blues Festivals. Do you like art? The San Diego Festival of the Arts is celebrating its 35th anniversary this year. There's a festival for everyone and everything.
Are you not into crowds? Want to enjoy nature's autumn splendor? Take a hike on San Diego's beautiful high-altitude hiking trails. Some popular spots include:
Torrey Pines State Natural Reserve
Balboa Park
The fresh air and beautiful scenery are sure to make you feel at home. San Diego isn't the first place people consider when they want to see the leaves change, but the high hills around the city are full of color when October rolls around.
Regardless of what you do when you move in the fall, get out there and enjoy San Diego. No one wants to be stuck in their brand-new house. You need to be able to get out and immerse yourself in the culture of your new environment.
There's no better place than fall in San Diego.
Additional Fall Activities in San Diego
Despite not experiencing traditional fall foliage and cooler temperatures like other regions, the city still provides unique experiences that celebrate the autumn spirit. Here are some more fun things to do in San Diego during the fall:
Pumpkin Patches and Corn Mazes: Visit local pumpkin patches and corn mazes to get into the fall spirit. Many farms and venues offer seasonal activities, such as pumpkin picking, hayrides, and family-friendly games.
Fall Festivals: Attend fall-themed festivals and events in San Diego. Look out for Oktoberfest celebrations, craft fairs, and cultural festivals that offer delicious food, live music, and entertainment.
Visit Vineyards and Wineries: Take a day trip to the nearby wine regions like Temecula Valley or Ramona Valley. Enjoy wine tastings, vineyard tours, and scenic views of the vineyards turning golden in the fall.
Horseback Riding: Experience the picturesque countryside on horseback. Many ranches and stables in the surrounding areas offer guided trail rides suitable for all levels of experience.
Harbor Cruises: Take a leisurely harbor cruise to enjoy San Diego's coastal beauty. Some cruises may have fall-themed options with special holiday decorations.
San Diego Zoo and Safari Park: Enjoy a visit to the world-renowned San Diego Zoo or San Diego Zoo Safari Park. The fall season offers pleasant weather for exploring the diverse animal exhibits.
Outdoor Dining and Food Festivals: San Diego boasts a vibrant food scene. Enjoy outdoor dining at restaurants and cafes or attend food festivals that showcase seasonal and local delicacies.
Sunset Watching: San Diego is famous for its stunning sunsets, and fall can offer some particularly colorful and picturesque evenings. Head to Sunset Cliffs Natural Park or Ocean Beach to catch a breathtaking sunset view.
Haunted Attractions: Embrace the Halloween spirit by visiting haunted houses or spooky attractions around the city.
Beach Days: Although summer is over, the fall weather can still be warm enough for a day at the beach. Pack a picnic, bring a book, and enjoy some relaxation by the shore.
SeaWorld San Diego: Enjoy the fall-themed festivities at SeaWorld, which often include Halloween-themed shows and events.
Remember that San Diego's fall weather can vary, so it's always a good idea to check the local forecast before planning outdoor activities. Whether you're a local or a visitor, San Diego offers plenty of enjoyable experiences during the fall season.
Moving to San Diego in the Fall is Easy with Best Fit Movers
When you consider all the factors together, fall is the best possible time for you to move to San Diego. The weather is mild, the competition is low, the process is easy, and the people are friendly. Why would you choose another season? The summer is busy, the winter is cold, and the spring is wet. Autumn is the best time to make a San Diego residential move.
So, when you're moving to San Diego this fall, go with a moving company that'll get you there. Best Fit Movers offers a comprehensive, full-service moving experience. Rely on us to make your relocation enjoyable. We offer helpful services like packing and storage for local and long-distance moving.
Our team is:
Fully licensed and insured
Rated an A+ with the BBB
Fully equipped with all moving supplies
Skilled in residential and commercial moves
What's more, we've been moving San Diego residents for years. We know the community because we are the community. It is our home, and we're excited to make it your home too. Our friendly movers can tell you everything you need to know. Whether you want to know where to grab a drink or need directions to the San Diego Zoo, we can point you in the right direction while we help you settle in.
As the leaves begin to fall, you'll remember how all your worries fell away when you contacted our moving experts to help you move to San Diego in the fall. Reach out today for a free moving quote, and ensure your next move is your best by choosing Best Fit Movers.